Are you trying to find the best apple orchards in Ohio? This guide lists the best places for apple picking in Ohio!
We have apple orchards near Columbus, Cleveland, Cincinnati, and beyond! We love fall in Ohio and hope that you will have a chance to visit some of these farms and markets.
Did we miss any amazing Ohio apple orchards? Let us know in the comments. Thanks!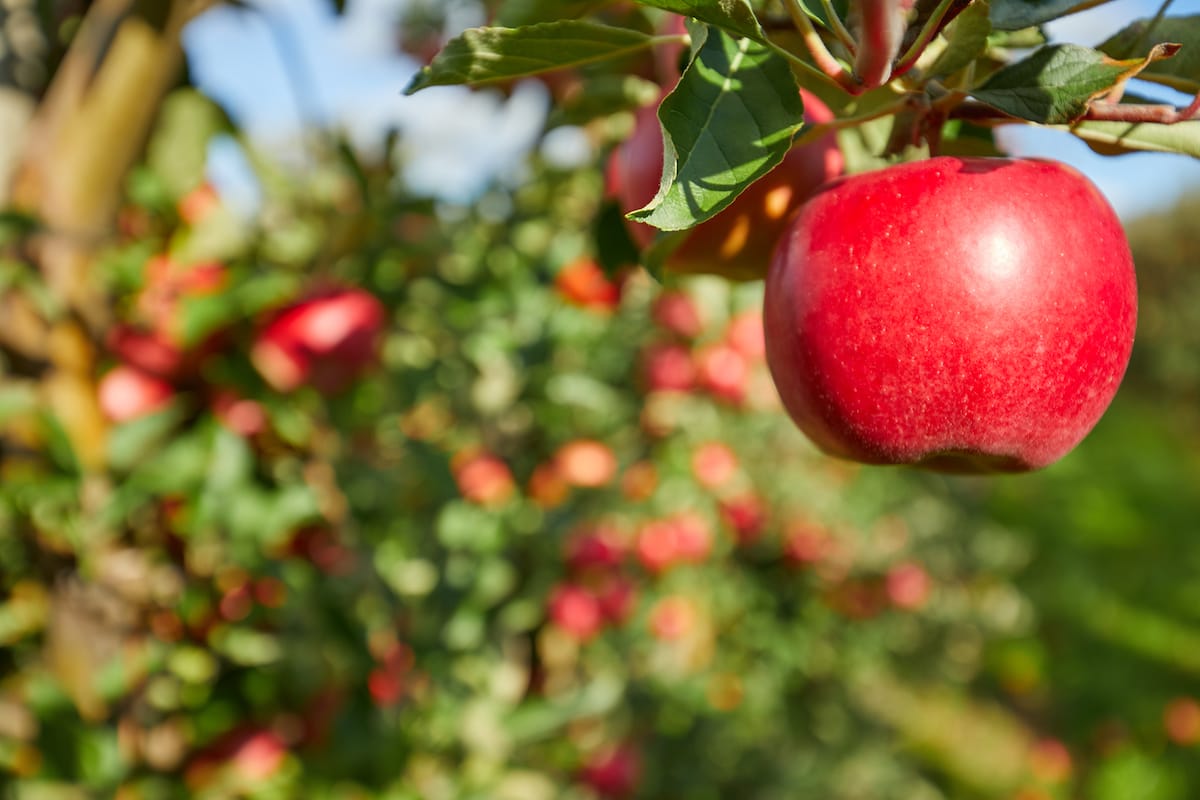 When to Go Apple Picking in Ohio
Most of the apple orchards in Ohio will open in September with the exception of a few that open for apple picking in late August.
If you're trying to combine your orchard experience with a little bit of pumpkin picking (if the farm has a pumpkin patch, of course!), make sure you head there in October instead of earlier in the season.
Most apple orchards in OH stay open until late October.
Best Apple Orchards in Ohio
Burnham Orchards
Location: Berlin Heights
Website
In the 1800s, Willian and Eleanor Tillinghast received land in the Firelands of Ohio measuring 160 acres since their homestead in Connecticut had been burned down during the Revolutionary War.
This grant allowed them to start something fresh! Their son Oliver later in the 1900s, planted the 1st commercial orchard of 14 acres of apples and 6 acres of peaches.
The family was the first to bring the Fuji Apple to Ohio as they were highly passionate about their farm. Harvesting season begins near the end of October/November when the delicious Evercrisp Apple, a cross of the Honeycrisp and Fuji Apple, is planted.
The orchard hosts various events in the fall where visitors can pick apples, blackberries, peaches, and even cherries. Visiting hours vary depending on the type of activity you choose, and please note that pets are not allowed in the orchard.
The market, however, is open from Monday to Sunday from 9 am to 6 pm. You can visit Burnham Orchards in Ohio, located in Berlin Heights.
Peifer Orchards
Location: Yellow Springs
Website
What was once intended to simply be a hobby by a family is now a large orchard of over 3,000 fruit trees, including apples, peaches, berries, and even pumpkins.
Peifer Orchards used to be located right outside of Yellow Springs. However, it is now located on route 68. John Peifer originally planted his first apple on the land in 1994.
Today, he, his daughter, and son-in-law run it, and it is highly famous in the area for its locally grown fresh produce and fresh pressed apple cider.
You have over 21 apples to pick and buy from, including some favorite mouth-watering apples like Mcintosh, Honeycrisp, Yellow Delicious, Autumn Crisp, Granny Smith, and much more!
Some of these apples are available in mid-September, and the majority can be picked in mid or late October, so make sure you check out when your favorite apple type is available.
You can enter the farm for a small fee of $2, while children under the age of 3 are free. Apples cost $1.99 per pound year round.
The farm market visiting hours are from Monday to Friday from 10 am to 6 pm, 9 am to 5 pm on Saturdays, and 11 am to 5 pm on Sundays. You can visit the farm from June to December.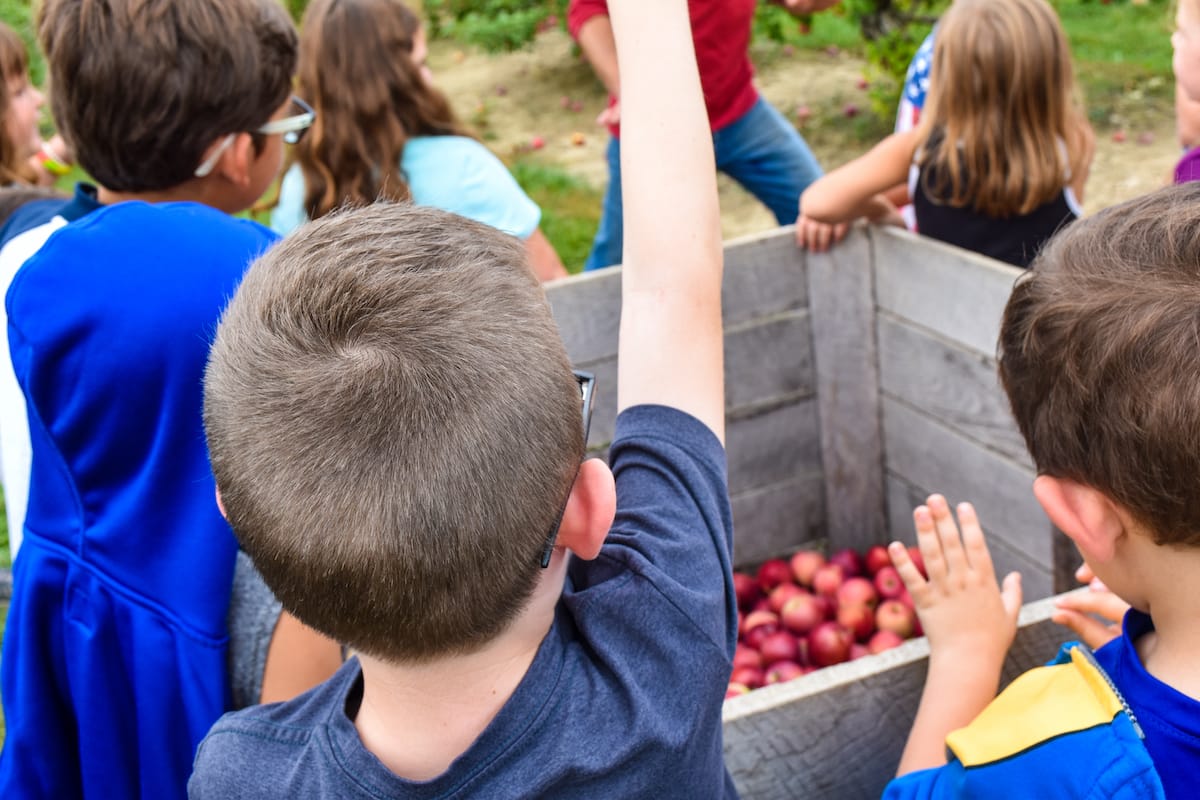 Beckwith Orchards Cider Mill
Location: Kent
Website
A love for apples was established by a family in 1878! Beckwith Orchards is located in Kent, Ohio, near The Portage Hike, Bike Trail, and Lake Rockwell.
Open usually near the end of July, offering a wide selection of fruits such as peaches, nectarines, and corn in the summer and good old apples, pumpkins, gourds, and cider in the fall.
Contrary to other orchards, you do not have the option to pick fruit for yourself and can only purchase from the gift shop inside the orchard.
But rest assured that your bag of goods is organic, conveniently picked, washed, sorted, and bagged for the precious customer. Since pick-your-own is off limits, you can still enjoy the farm by going for a bike ride on the adjacent Portage County Hike and Bike Trail.
The orchard offers delicious apples: Ginger Gold, Beckwith Big Red, Mollie's Delicious, Honey Crisp, Gala, McIntosh, Red Delicious, and around 14 more.
The farm is open 7 days a week from 10 am to 5 pm and closed on Thanksgiving Day. It is also important to note that dogs are unfortunately not allowed inside the park but can be walked near the hiking trail.
Hidden Hills Orchard
Location: Marietta
Website
Think over 5200 dwarf trees of apples and various other fruits built on a massive chunk of land.
That land is an orchard called Hidden Hills Orchard, located four miles from Marietta along Ohio SR 26.
The orchard has been a farm since 1895 until it was purchased from the Long Family in 1998, installing trellises and planting dwarf apple trees.
You can choose from 22 varieties of apples from this farm, among them the famous Honeycrisp, Golden Delicious, and Gold Rush.
If you're a cider fan, then make sure to grab some while visiting, as the Hidden Hills Orchard cider has various awards in the Ohio apple cider contest!
From August through November, visitors can pick their own fruits or purchase the pre-packed goodies. Cherries and peaches are also available for picking and purchasing when in season.
To visit the farm and pick or buy fruit, check out the website to contact the orchard separately, as they do not list specific visiting hours.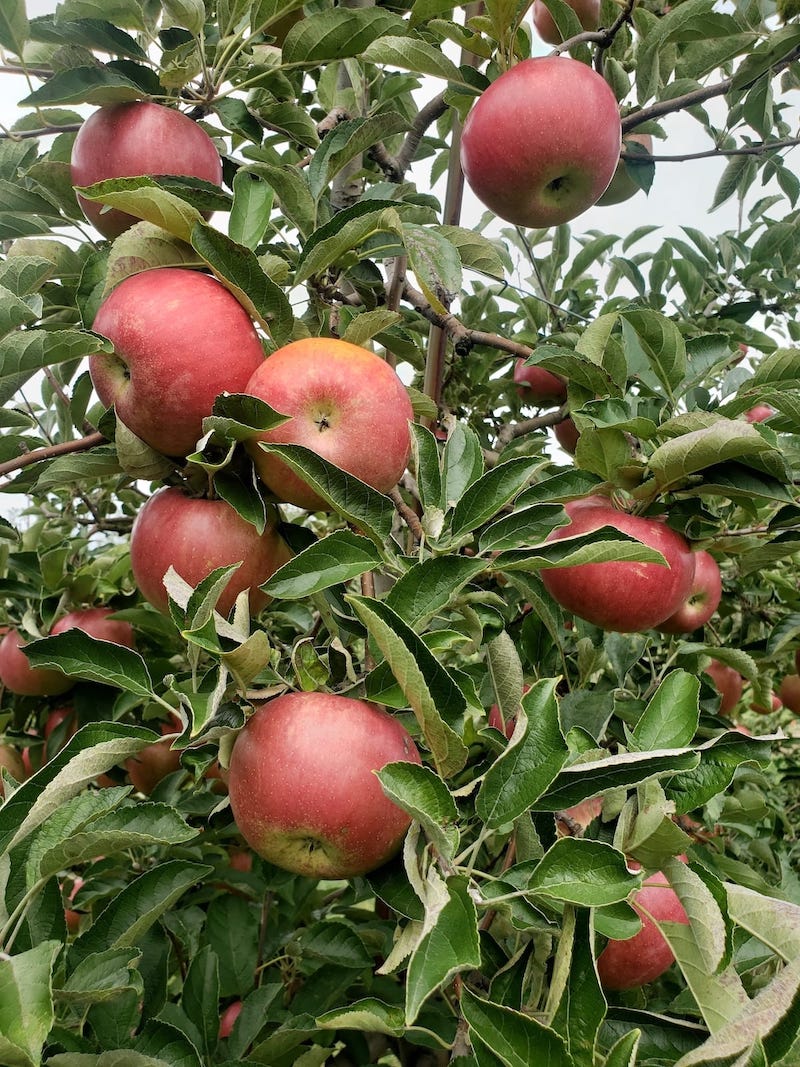 Fuhrmann Orchards
Location: Wheelersburg
Website
Pete and Susan Furman established their farm in 1958, a greenhouse for a long time until the family decided to change things up a bit over the next few decades.
Today, Fuhrmann Orchards is an orchard built on 120 acres where various fruits grow, such as apples, peaches, nectarines, melons, vegetables of all kinds, cut flowers, fall squash, and even pumpkin.
May to August is the family's busiest time when they work very hard to distribute their hand-picked, washed, and boxed fruits and vegetables to 3 farmers' markets a week, restaurants, and various businesses.
The family grows 29 varieties of apples that all have their own unique flavor. Some of them are the reputable Fuji, Golden Delicious, Mutsu to Law Rome, and dozens more. Y
ou can visit the Orchard Farm market from mid-July until late December, Mondays through Fridays from 8 am to 6 pm and from 8 am to 5 pm on Saturdays. Visiting hours are closed on Sundays entirely.
Visitors can enjoy a flower picking experience costing $25 per person, wander in the corn maze for a small fee of $2, pick sunflowers in the sunflower field ($5 for anyone above the age of 5), and even pumpkin picking in the fall along with various other activities.
Dates vary, so be sure to check out the website in advance.
Black's Shady Knoll Orchard
Location: Mount Victory
Website
Black's Shade Knoll Orchard is run by a family passionate about agriculture and the farm lifestyle.
It was founded by the present-day owner's grandparents in 1928, near state route 31 in Hale Township. After purchasing 48 acres of land, the family bought additional land just south of the farm and planted more fruit trees.
You can find a variety of fruit trees here, such as apple, peach, pear, and plum.
The apple varieties are more than a dozen like a summer Rambo, Honeycrisp, mollies delicious, fuji, Jonathan, Cortland, macintosh, ever crisp, red delicious, and a ton more!
Unfortunately, the orchard doesn't offer an apple picking experience at this time, but you can visit the farm from Tuesdays to Fridays from 10 am to 6 pm, Saturdays from 10 am to 4 pm, and on Sundays from 1 pm to 4 pm.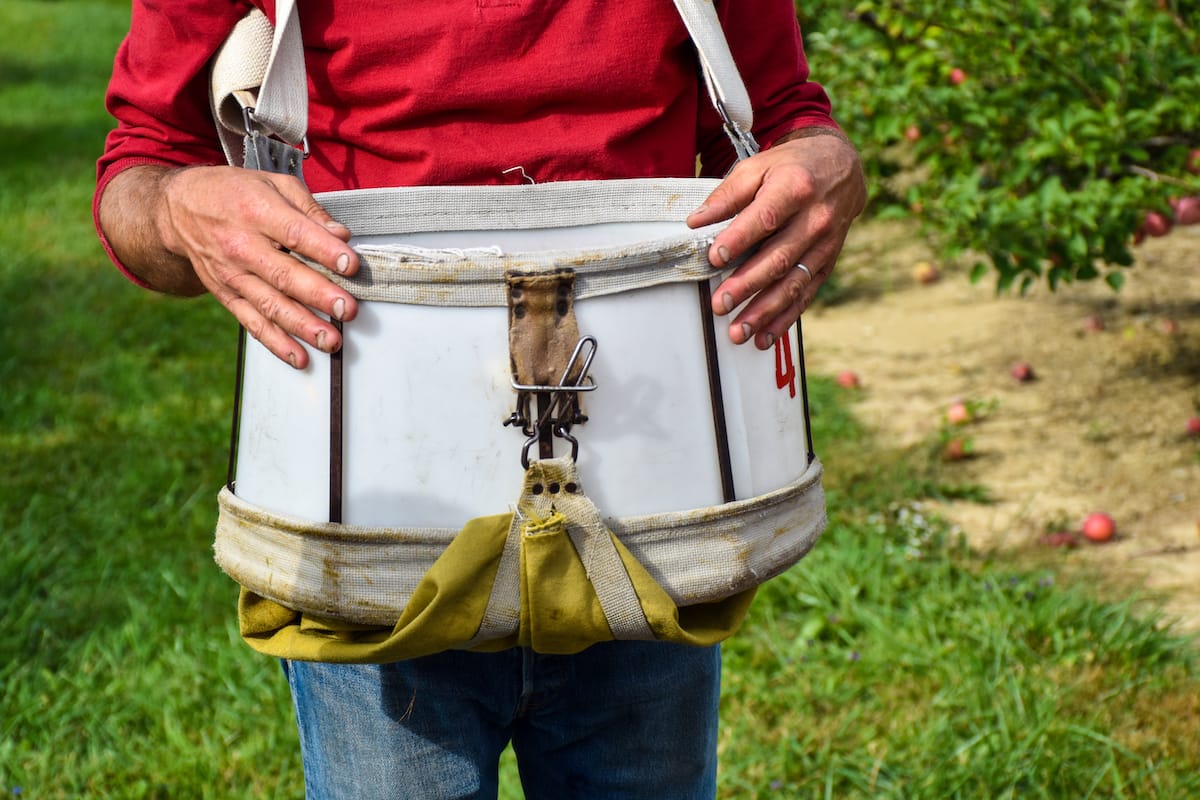 Hartford Orchards
Location: Hartford
Website
This orchard is located right at the heart of Hartford, Ohio, tracing back to the Clark family, who purchased the main orchard at the end of the Civil War. Afterward, Clarence "Pa" Eucker was bought out from the farm he was working at in Ravenna, and since he was desperate to find a place to store his apples, he decided to purchase the main orchard from the Clark family in the 1930s.
After decades of being run by the family, it was purchased by the Schwartz family in April 2017.
Nine different types of apples are grown at Hartford Orchards, which also sources many others from other local Ohio orchards. You can find at least a dozen apple varieties ranging from Honeycrisp and Mcintosh to Gala apples.
You can pick your own apples at Hartford Orchards from September until October 23rd, when they are in season, for $10 for ½ a peck, $16 for a whole peck, and $25 for ½ bushel.
Visiting hours are from 10 am to 6 pm Monday to Friday. Aside from apple picking, you can also do photo shoots and field visits to the farm.
Blue Jay Orchard
Location: Hiram
Website
The philosophy of the family that owns Blue Jay Orchard has a holistic approach: using organic-approved farming products and moving the entire orchard to holistic farming practices over the next few years.
This way, the family ensures growing fruit for its customers in the best and healthiest way possible using a proactive approach that boosts the plant's immune capabilities through natural conditioning.
There are more than 2 dozen apple varieties at this orchard, and blueberries are available from late June/early July through mid-late August.
You can visit the farmers market and pick your own apples and blueberries on Mondays through Saturdays from 6:30 am to 5:00 pm and on Sundays from 8:30 am to 3 pm.
To find out the service price range, make sure you check out in advance, as there is no specific set fee.
Charlie's Apples
Location: Newark
Website
The orchard was founded by Charlie Fritsch in 1955 and has been operating for more than 25 years, offering pick-your-own fruits services with multiple varieties of crisp and tasty disease-resistant apples.
Charlie's Apples has become certified organic since 2017. The orchard owners practice sustainable agriculture by producing high-quality apples that do not contain fungicides, herbicides, or other synthetic chemicals used by conventional growers.
To taste these delicious and pesticide-free apples, you must visit the orchard, which is open from the first week of October every day from 9 am to 5 pm.
Since it's a self-serve service, you should pick up bags in the saleroom, pick apples and then return to pay- that's all! The only available apples are Enterprise Apples.
Please note that dogs are unfortunately not allowed inside the orchard.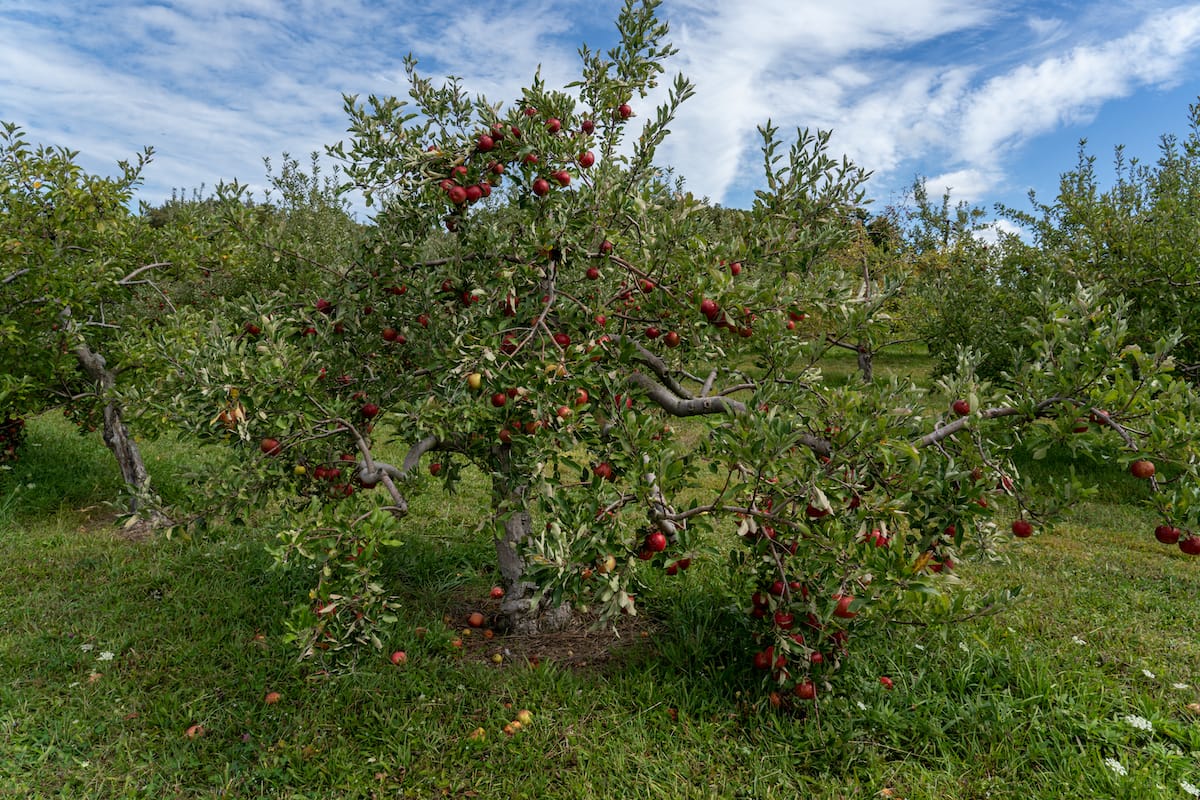 Arrowhead Orchard
Location: Paris
Website
An apple orchard runs entirely by four people who all share the same passion: agricultural business and serving fresh organic fruits to their customers.
The managing team of Arrowhead Orchard works very hard to harvest more than 30 varieties of apples, 9 kinds of peaches and nectarines, plums, and even pears.
Visitors can most absolutely spend time at the farm with their friends and family or even organize a field trip with kids to pick their own favorite delicious fruits just in time for the fall.
Apple picking hours vary by offering the experience from Monday to Saturday from 9 am to 6 pm and on Sundays from 11 am to 6 pm.
Pricing depends on the apples you choose to pick, costing anywhere between $15 to 30 dollars depending on the quantity.
You can also purchase a full day pass which includes a bunch of different activities and features such as visiting the corn maze, picking sunflowers, enjoying unlimited hay rides, driving around the pumpkin patch, even free parking, and a whole lot more.
Schools can even choose the school field trips package, and seasonal passes are also available. Prices are known only by calling the orchard in advance.
Miller Orchards
Location: Amherst
Website
This fruit farm being entirely family-operated has been in business for more than 4 generations. The family values integrity and prioritizes serving quality produce at an honest price in a family atmosphere.
David and Roger Miller and their families carry on their family tradition of planting apples which has been implemented since the 1800s.
One can choose from various apples, cherries, peaches, plums, and other fruits from this orchard, as well as seasonal vegetables.
Among the 23 varieties of apples, a substantial selection of cherries is grown and available, such as sour or sweet, deep red, shiny red or yellow and red.
Depending on the season, local raw honey, pumpkins, organic maple syrup, squash, Indian corn, cornstalks, potatoes, onions, peppers, salsas, and even jams and jellies are locally produced and available for sale to the public.
One can visit Miller Orchards on Mondays to Saturdays from 9 am to 7 pm, but please note that the farm is closed on Sundays with a large saleroom located directly across the road from the orchard.
Did we miss any of the best places for apple picking in Ohio? Let us know your favorite apple orchards in Ohio in the comments! Thanks!
More Ohio Travel Guides
Pin this Ohio Apple Orchards Guide