Are you looking for the best apple orchards in Minnesota? This guide contains some amazing places to go apple picking in Minnesota!
We are listing apple orchards near Minneapolis and afar and many of them have other fruits available during other seasons (ie. strawberries in summer).
Did we miss any incredible Minnesota apple orchards? Let us know your favorites in the comments. Thanks!
When to Go Apple Picking in Minnesota
Many apple orchards in MN open in late August and remain open until the end of October. This can vary from season to season but it is a safe bet to plan your trip for September or October.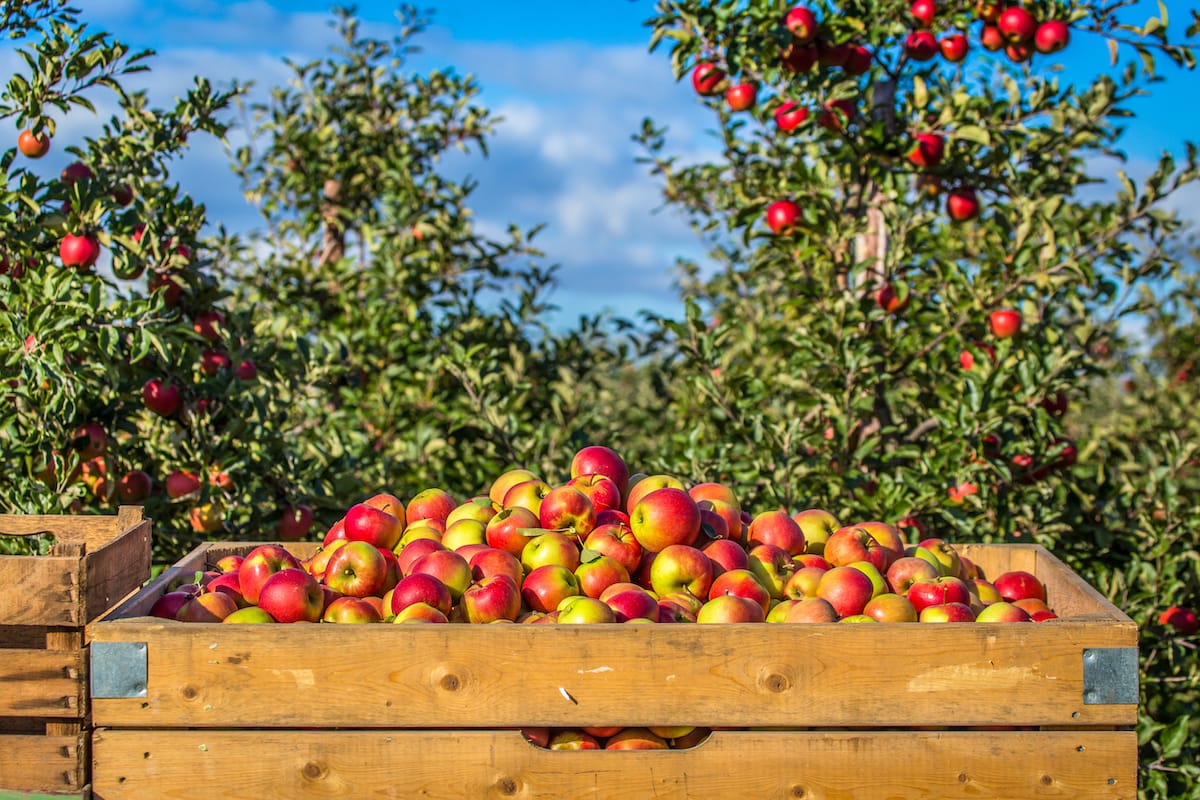 An added bonus is that if you visit the orchard in October and they have a pumpkin patch, you can do both!
Best Apple Orchards in Minnesota
Aamodt's Apple Farm
Location: Stillwater
Website
After World War 2, when the average American family earned around 3k a year and gas was just 16 cents a gallon, many Americans thought it was the best time to start something new.
Among them were Thor and Lucille Aamodt, who ambitiously wanted to establish their own far crop in 1948. And so they purchased the perfect land in Stillwater and started to grow crispy, juicy apples.
A few decades later, the farm expanded, including over 6,000 apple trees covering over 50 acres. The orchard today is located on 6428 Manning Avenue and is run by the third and fourth generations of Aadmont apple growers.
Eight types of apples are available for purchase at Aamodt Apple Farm, with some being in season and some not.
There are three ways to purchase apples: selecting pre-picked apples in the apple barn, picking your own apples in the apple orchard, or shopping online, which in our opinion, defeats the purpose but is still an option for those who wish to experience the juicy fruits from home.
Activities usually cost $3 and up, and one can find out about the pricing of the fruits by browsing the website.
Fun fact: dogs are allowed on the grounds but must be kept on a leash! The barn is open every day from 10am to 6pm.
Emma Krumbee's
Location: Belle Plaine
Website
Located on 311 Enterprise Drive East is the beautiful farm of Emma Krumbee's.
The philosophy of this particular barn is, "Get a break from the tangle of everyday living with pure and simple, honest-to-goodness family fun!"
The apple picking season starts from mid-August and runs through October, yet the farmers recommend one to call ahead as the weather in Minnesota can sometimes be unreliable.
Emma Krumbee's apple orchard has 10 varieties of apples and more than 6,000 dwarf apple trees. Visitors can ride in tractor-pulled wagons out into the apple orchard to discover suitable apples.
Aside from apples, pumpkins are also available at the farm, making the perfect jack-0-lantern for the fall season. Group tours are an option for a fun-filled activity hosting a tour group of 15 people.
The summer farm tours are open to the public from Tuesdays to Fridays from 10am to 1:30pm. For pricing and booking, one must absolutely fill out a form on the website (listed above) to book the spot.
Maple Hills Orchard
Location: Frazee
Website
Located right in west central Minnesota, just between Detroit Lakes and Frazee, is the beautiful far orchard called Maple Hills Orchard.
A family-owned and operated business growing about a dozen types of apples like Mcintosh, Sweet 16, Zestar, Honeycrisp, and more.
You can visit the farm only on Saturdays and Sundays in the fall season, specifically on September 17 and 24 and October 1 and 8.
The farm includes an apple store where you can purchase handpicked grown apples, honey, maple syrup, and even take away homemade baked pies. A fall raspberry patch where you can pick your own raspberries is also located in the orchard.
If you want to spend time outdoors, various activities like hiking trails, tractor rides, and picnic tables for lunch with your friends are available at the orchard.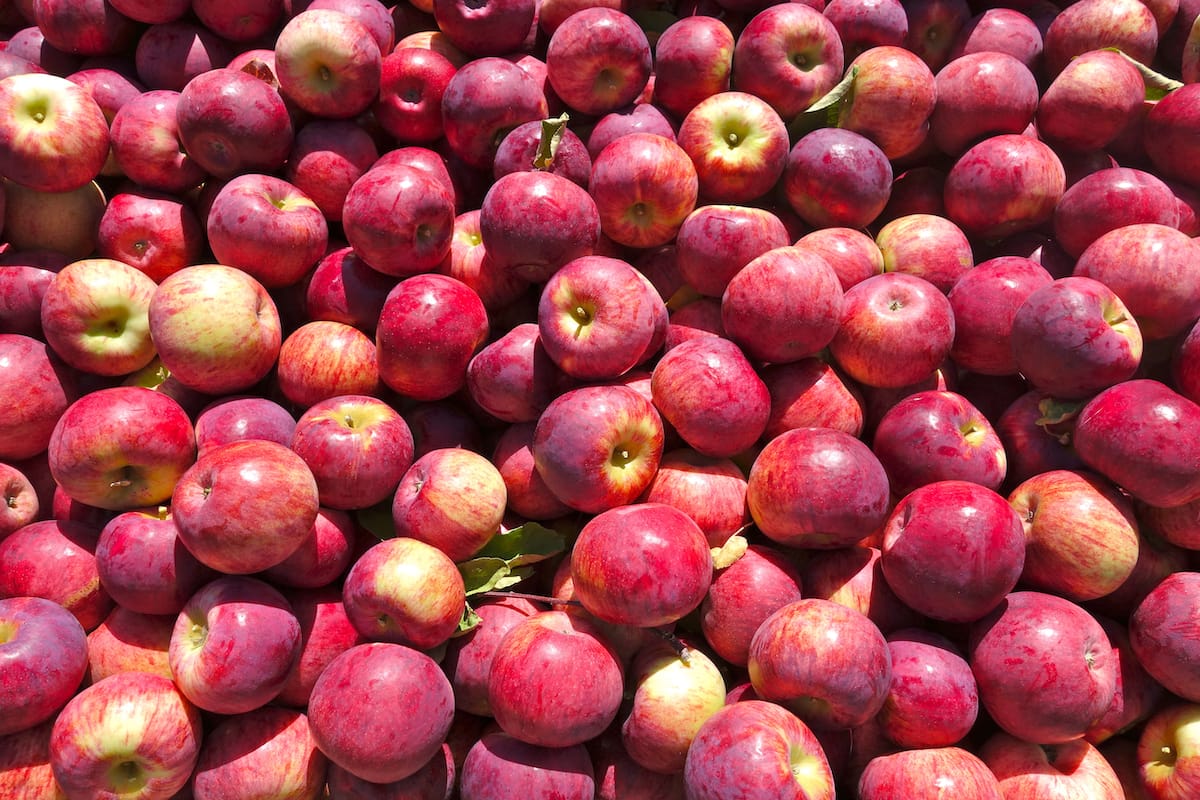 Whistling Well Farm
Location: Hastings
Website
The Whistling Well Farm is located on 8973 St Croix Trail and is home to various apples, mums, and pumpkins and offers a produce store!
Among the apples are the delicious Paula Red, Chestnut Crab, Haralson, Honeycrisp, First Kiss, SnowSweet, SweeTango, and Zestar!
Apples are already pre-picked and packed in bags available for purchase inside the shop.
If you visit in the late fall, make sure to also check out the pumpkin field to purchase some pumpkins for Halloween and, of course, stock up on homemade, locally produced preserves, jellies, pumpkin butter, pancake mixes, and so much more!
The farm's visiting hours are a bit off due to unavoidable circumstances. However, it is recommended to check the website to be notified and updated about the reopening in the fall of 2022.
Minnetonka Orchard
Location: Minnetrista
Website
Back in 1972, the founders of this orchard, Lowell and Phyllis Schaper, built their family home on forty acres in Minnetrista, and 6 years later, the Minnetonka Orchard was born when they planted their first 600 apple trees. 45 years later and their legacy has been passed down to the new hands of Esther and Frank Weigel.
The family was famous for making apple donuts, hosting incredible weddings, special events, and fall festivities which the new owners wish to carry on and bring the farm back to its fullest potential.
The farm is located on 6530 County Road 26 and has become a first-class tourist destination hosting various activities such as fall visits, events with outside catering, holiday classes, Christmas at the Farm, and even Halloween trick-or-treating.
Apple picking is open to the public from 10am to 5pm from Monday through Sunday. Some of the apples offered are Honeycrisp, Zestar, Sweetango, and many more.
Tourists love purchasing their famous cider and apple donuts. Different admission prices depend on what activity you choose to do on the day, so be sure to check the website for updated schedules and ticket costs.
This orchard is dog friendly, so remember that your furry friends can tag with you.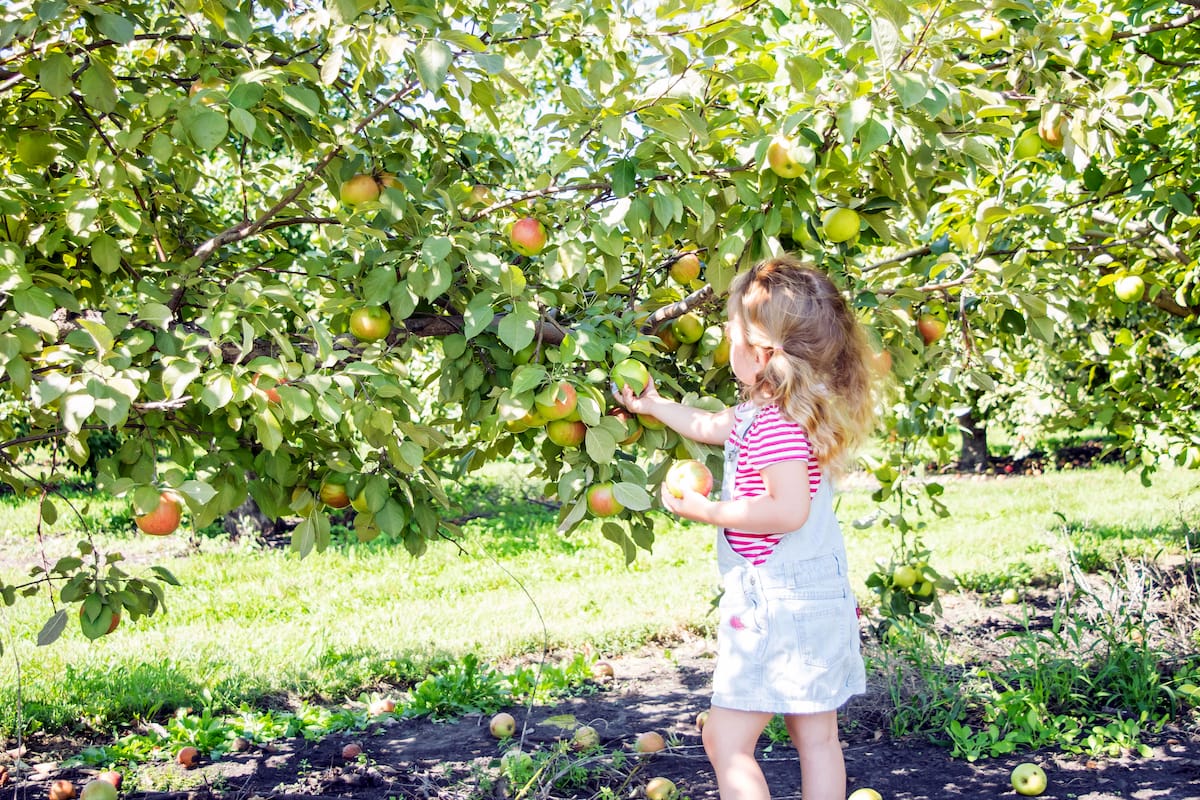 Sogn Valley Orchard
Location: Dennison
Website
Sogn Valley Orchard is a nature-based environment that feeds the soul of all who visit-a a tagline featured on the homepage of this famous farm.
Located on 37750 41st Avenue Way, the orchard grows around 21 apples, some of which are favorites like Honeycrisp, Harald, HoneyGold, McIntosh, First Kiss, Connel Red, and so much more.
There are more than 1400 apple trees in the field, so you're bound to choose from so many and taste the juiciness. Sogn Valley Orchard is only open to the public from September 6, 2022, until October 31, 2022, from noon to 6pm.
The farm is, however, closed on Wednesdays so keep that in mind.
Cider and various veggies are locally grown and sold, such as garlic, black garlic, onions, pumpkins, and squashes.
Maple Run Orchard
Location: Finlayson
Website
A farm once solely made maple syrup soon evolved into an apple orchard and apiary. The first apples in this orchard were planted in 2011-over a decade ago, and indeed were added year after year.
Depending on the season, you can purchase a selection of apples from FirstKiss, Zestar and Chestnut Crabapple, SweeTango, Sweet Sixteen, and Honeycrisp, and in the late season HoneyGold, Royal Court Courtlands and Snowsweet, Frostbite and Keepsake are available to be munched on.
Cider is pressed every Thursday on the farm in small batches. Honey, beeswax products, and maple syrup are all also offered for sale at the orchard's shop.
You can stop by the farm to pick up a bag of fresh apples on the banks of Pine Creek.
Maple Run Orchard is located right on 66086 Norway Spruce Road, and to find out when visiting hours are available, you must check out the website to be notified and updated.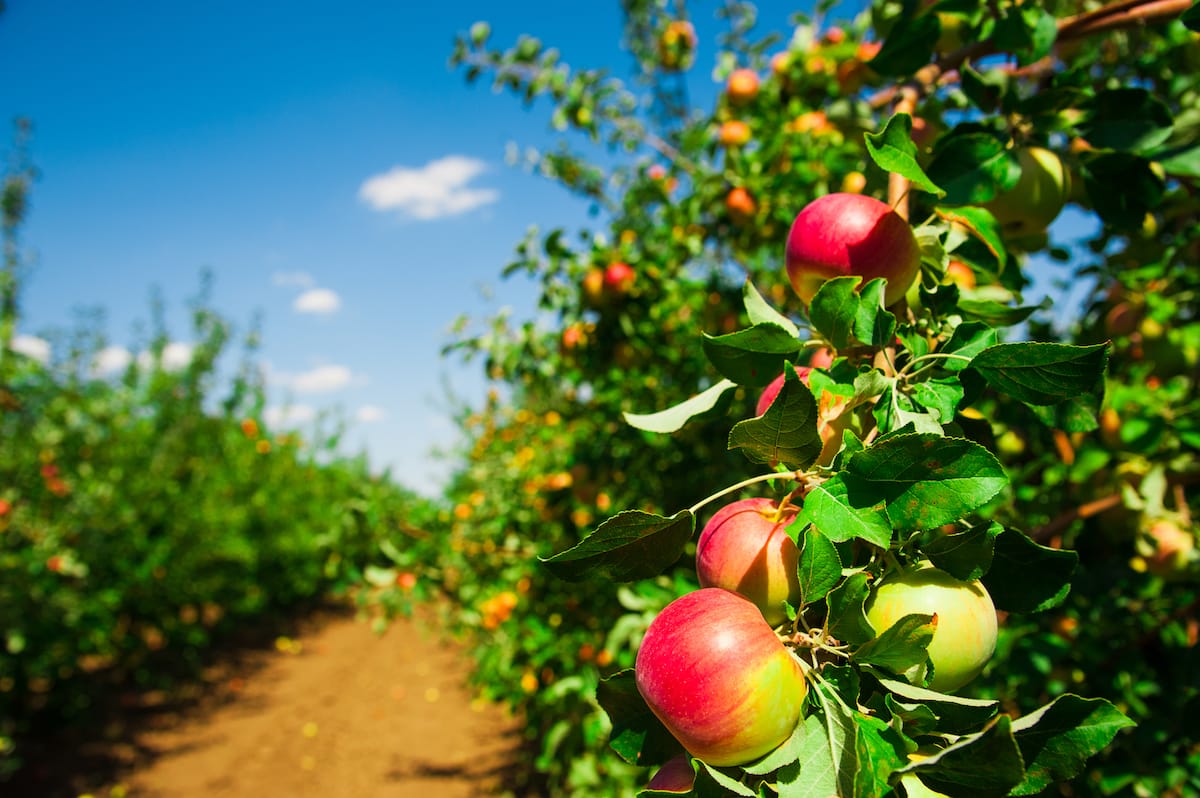 Luceline Orchards
Location: Watertown
Website
A beautiful, 155-acre property in Watertown on the Luce Line Trail is the Luceline Orchards, run by three couples who all share the same dream and passion for harvesting fruit.
The orchard was first established in 2004 with a vision and only 300 apple trees, yet today it has more than 10,000 trees, 4,500 grape vines, and 10 acres of pumpkins.
There are seven apples to choose from, loads of pumpkin and squash, and even a variety of foods that all contain apples.
More than 80 acres of woods and wetland make it perfect for walkers, runners, bikers, horse riders, and bird watchers to explore the wilderness and even walk their dogs on a leash. There is plenty to do and see here in this orchard.
You can pick your own apples at Luceline Orchards, and prices vary, which you can only check out inside the shop.
The orchard is open to the public on certain days and hours of the month, so you should check out their specific schedule on their website.
If you're driving from Minneapolis, note that it's a 40-minute drive!
Deardorff Orchards
Location: Waconia
Website
Lin Deardorff and his wife Bonnie moved their family of 7 out of the noisy city to the countryside where Bonnie could have the garden she had always dreamed of.
In 1982 he began his second career of apple planting and became a professional grape grower later down the line.
Today's farm has grown into a successful agri-tourism business on 125 rolling acres of vineyards! With more than 4,000 apple trees, one can choose from apples such as Honeycrisp, Honeygold, Mcintosh, and plenty more.
One of the activities on the farm indeed includes apple picking, hayrides, and a petting zoo for children.
Pick-your-own apples are sold by the bag, and you can choose from two sizes of bags for picking: ½ peck, which is approximately 16 medium apples, or a whole peck weighing 11 pounds and carrying 32 medium apples.
Deardoff Orchards is located on 8282 Parley Lake Road and is not open at the moment to the public.
To be notified, be sure to check out updates on the website.
Sekapp Orchard
Location: Rochester
Website
Sikka Orchard, just like many other farms, is family-owned and has been around for more than 50 years! There are more than 7,000 apple trees on the farm, with more than 25 varieties thriving at Sekapp Orchard.
The farm is built on 160 acres located just east of RCTC on Collegeview Road in East City. Since apples available vary based on seasons, it is best to contact the farm in advance to know for sure whether the apple you want to pick is available.
Apples are sold in the sales shed in 5-pound bags for those who want to pick off the trees. You can also choose from 1-peck bags or half bushel bags.
A minimum $6 apple bag for picked apples is required for every person entering the farm whether or not they intend on picking apples. Unfortunately, dogs are not allowed, so do keep that in mind.
There are no set visiting hours, so you must call in advance to either schedule or be notified of the upcoming fall dates.
Pumpkin picking and corn stalk maze tours and a Halloween fun tour in October are also open to the public in Rochester.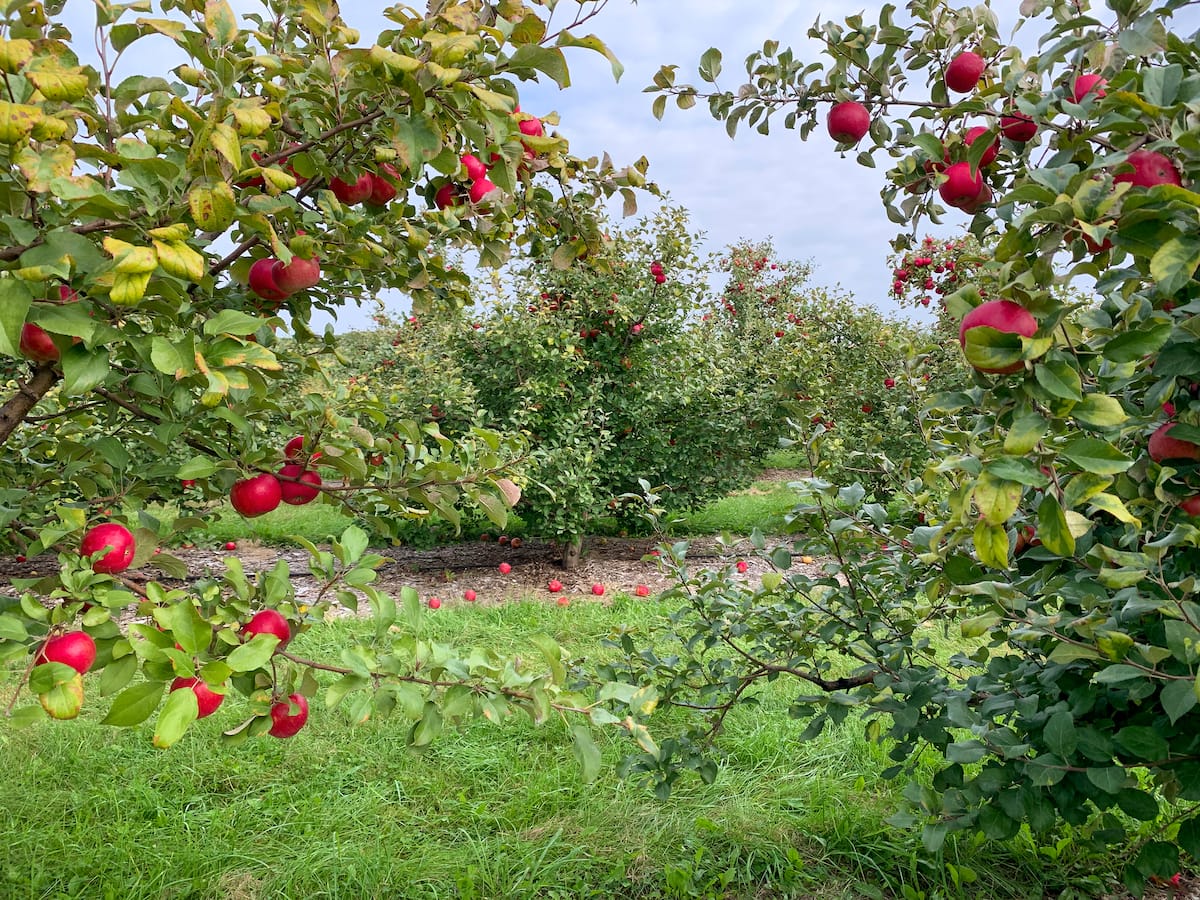 Montgomery Orchard
Location: Montgomery
Website
The Montgomery Orchard was first established by Scott Wardell in 1999 when the idea of starting his own farming business crossed his mind.
Since then, Scott and his family have massively expanded the industry and offered the best kinds of freshly produced fruits and other goods.
Located one mile east of the intersection of Hwy 99 and Hwy 13 in Montgomery Township.
The farm has more than 12 varieties of apples that are fresh and handpicked, as well as hard cider and wines that are available for purchase at the orchard. Aside from apple picking, one can stroll through the corn maze, listen to live music, spend walks in nature and enjoy hay rides.
The farm opens its doors to the public from August 20 until late fall. To be specific, make sure you call ahead in advance for further information on timing schedules.
Holmberg Orchard
Location: Vesta
Website
Located in Southwest Minnesota is the family-owned and operated business Holmberg Orchard which was initially founded by Lee and Sindie Holmberg in 1987.
In 2020 a couple named David and Rosie Petty purchased the orchard and proudly brought it back to life. The official address of the orchard is 12697 35th street.
The orchard has different apple varieties, pumpkins, squash, and even a gift shop for those who wish to purchase souvenirs and other goods. There are about 5 apples to choose from Honeycrisp, Zestar, Haralson, SweeTango, and Riverbelle.
Be sure to check out when precisely the farm will be open for apple picking as it is closed in the summer season.
Did we miss any of the best apple orchards in Minnesota? Let us know your favorite places to pick apples in Minnesota in the comments.
More Minnesota Travel Guides
Pin this Minnesota Apple Orchards Guide