Are you on the search for the best apple orchards in Pennsylvania? This guide contains the best places for apple picking in Pennsylvania!
The list has some of the best apple orchards near Philadelphia (as well as some places to go apple picking near Pittsburgh)!
Did we miss any of your favorite Pennsylvania apple orchards? Let us know in the comments! Thanks!
When to Go Apple Picking in Pennsylvania
The best time to go apple picking in Pennsylvania is during September and October.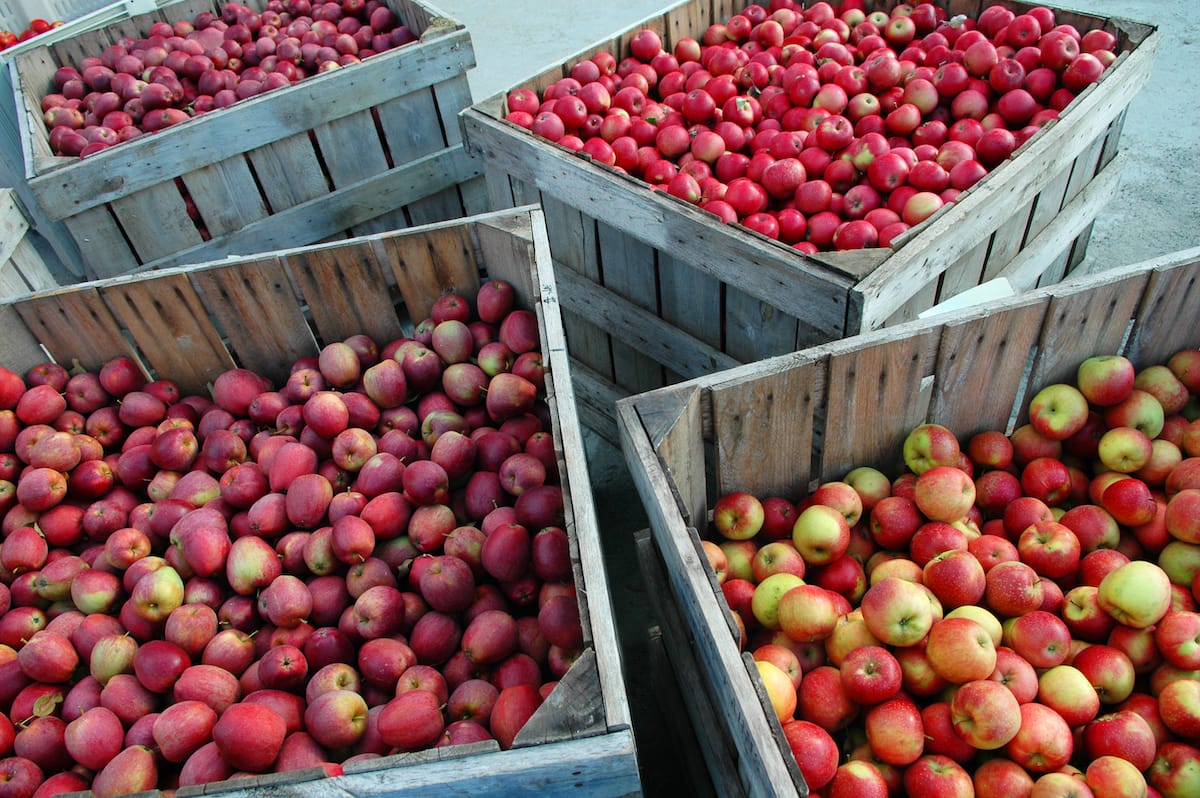 Many of the farms on this list contain other fruits (and gourds like pumpkins)! So, you can perhaps head there in August but the apple picking season might not be in full swing yet!
Best Apple Orchards in Pennsylvania
Weaver's Orchard
Location: Morgantown
Website
Weaver's Orchard is a sizable fruit farm with a farmer's market opened year-round and loaded with fresh and local produce along with a cafe, deli, bakery, and more, tucked away in the picturesque hills of Berks County.
From June to October, you can choose your own fruit and take part in a variety of family-friendly crop-related activities.
The orchard can be easily reached from Philadelphia since they are situated at the intersection of Berks, Chester, and Lancaster counties, just 10 miles south of Reading, and 5 miles from the Morgantown junction on the Pennsylvania Turnpike.
Enjoy the harvesting season, which begins in June (first with only strawberries).
Up until the end of the season in late October, you are also welcome to choose from other produce including red and black raspberries, sweet and tart cherries, blackberries, apricots, plums, peaches, nectarines, apples, pears, pumpkins, kiwiberries, and more.
Susquehanna Orchards
Location: Delta
Website
Susquehanna Orchards has played a significant role in Delta, Pennsylvania since its founding.
Fresh peaches, apples, and other fruits are provided to the neighborhood and nearby areas.
Over the years, the store has expanded significantly! It currently has a market with a wide range of seasonal fruits and local food, as well as meats, preserves, and more.
They provide a vast selection of various kinds of apples and peaches as well.
If you are looking for a particular variety, please call the store during business hours so they can confirm whether it's available, provide nearby alternatives, or give you a ballpark of an expected ripening date.
The store is open seven days a week from the beginning of peach season around the beginning of July to the cooler months of apple season in mid-November.
The store is housed in the orchard's original big barn during these months. The barn is unquestionably unique and takes you back in time with its rustic feel.
Check out their cider House as well! Their store is open on Saturday and Sunday from mid-November until the end of the seasonal business.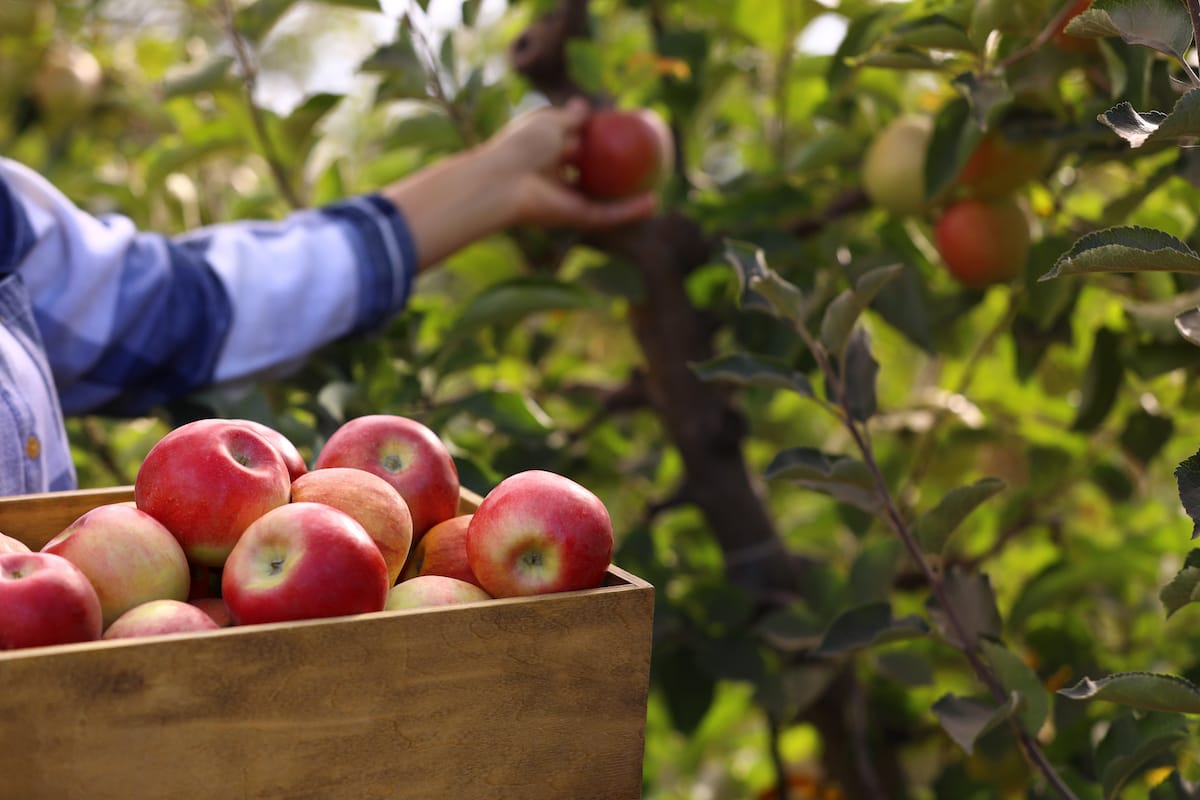 Solebury Orchards
Location: New Hope
Website
Apples, peaches, blueberries, and other fruits are grown at the wonderful Solebury Orchards, located in the picturesque Bucks County.
The farm is well-known for its delectable products, including its apple sauce and apple cider along with their high-quality fruit. Visit the market, which is open from June to April, or choose your own produce in the summer and fall.
Doing the you-pick option is also a wonderful way to spend the day while being surrounded by lovely berry fields and orchards. There are blueberries, blackberries, and many flowers to choose from all in the summer!
There are also numerous varieties of apples in the fall. You can sift through the waist-high blooms in the cutting garden and create a unique bouquet from the wide variety available.
Wagon rides through the orchards are offered on the weekends in September, October, and the first weekend in November. All fruits that you can pick yourself are priced per pound.
Triple B Farms
Location: Monongahela
Website
Since 1985, Triple B Farms has welcomed families and visitors to their property, which is only 15 miles from downtown Pittsburgh.
Explore and shop for locally grown, professionally produced fruits and veggies, freshly baked items, homemade fudge, and gift baskets while taking in the pure country air and exciting outdoor activities.
The farm is not only ideal for creating family memories because of their apple-picking traditions, but also because it has lots of animals, educational opportunities, and entertaining activities.
There are many things you can buy down at Triple B farms such as locally grown fruits and vegetables; farm-fresh fruit-based homemade pies and fudge; a variety of jams and jellies; fresh eggs and meat; beehive honey straight from the farm; Amish cheeses and butter from dependable farm buddies; farm toys; gifts; kitchenware; and pet supplies.
Norman's Orchard
Location: Tarentum
Website
In 1958, Norman's Orchard started putting out goods. Robert and Sara Norman, who bought the land in 1947 along with a farm home and a Sweitzer-style log bank barn, are credited for starting the orchard.
It presently belongs to Creighton and have created a reputation of being one of the best in the state!
They're open from the middle of June, when the cherries ripen, through the end of October or the beginning of November when all of the apples have been sold.
One thing to remember is that they only accept cash. Some fruits are only seldom available due to a short season or great demand (all cherries and some unusual varieties of apples in particular).
Please call 724-224-9491 or check Norman's Orchard's Facebook page to confirm fruit availability before visiting.
They're open Tuesdays to Saturdays during cherry season from 10:00am to 6:00pm and 12:00pm to 5:00 pm on Sundays. Tuesday, Thursday, and Saturday are also blueberry days, open from 10:00am to 3:00pm.
Apple season runs from Wednesdays to Fridays from 10:00am to 6:00pm; Saturdays from 10:00am to 5:00pm; and Sundays from 12:00pm to 4:00pm.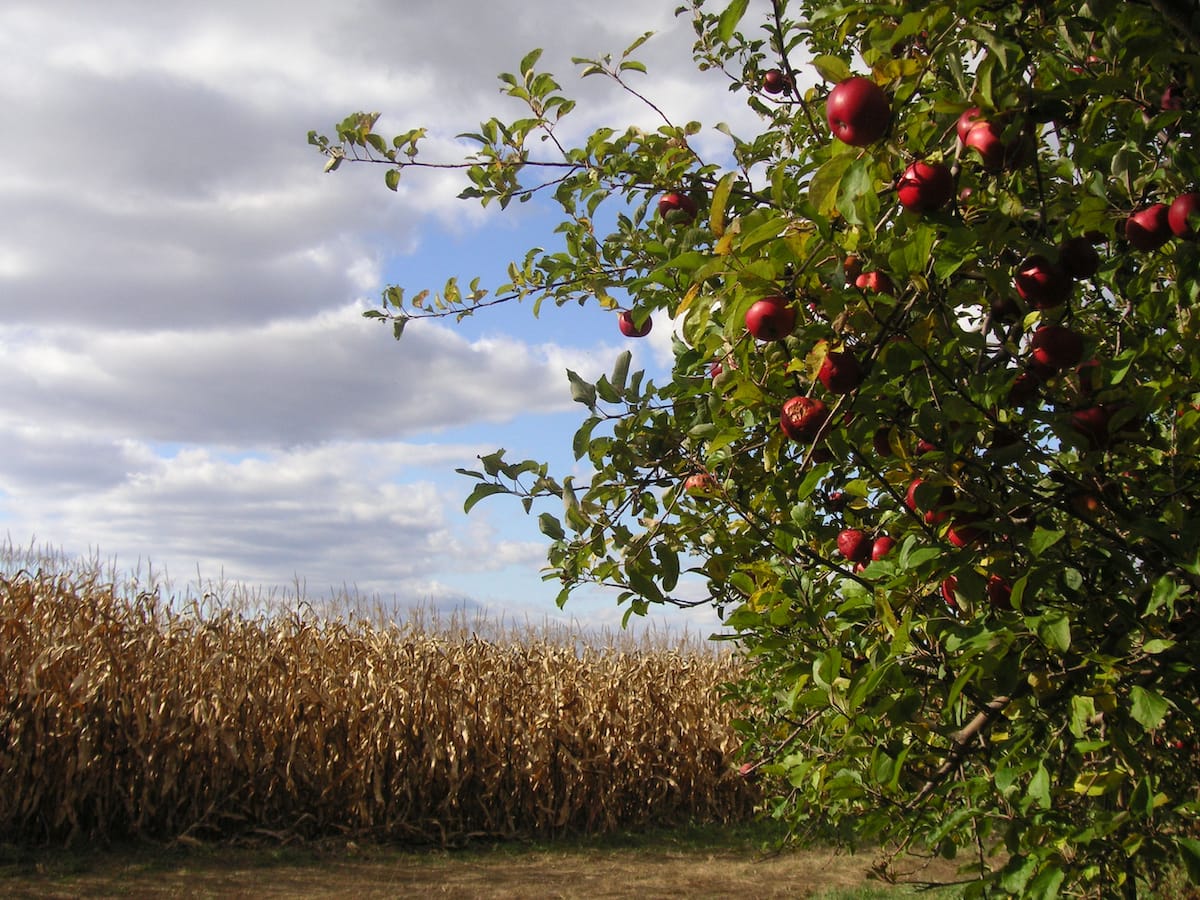 Brace's Orchard
Location: Dallas
Website
Dallas, Pennsylvania's Braces Orchard is a family-owned and operated fruit farm.
They produce more than 100 acres of fruit, including cherries, blueberries, peaches, plums, and apples. In the fall, they make fresh apple cider two days a week, and the rest of the year, they only make it once.
Therefore, be sure to visit during the fall where you can participate in the u-pick season and enjoy fresh apple cider! At least ten different types of apples are combined to create the cider.
Brace's Orchard is also a historic part of Dallas, as it's been around since 1828 and continues to serve both locals and visitors with the same love and hospitality as it did back in the day!
Maple Lawn Farms
Location: New Park
Website
Maple Lawn Farms is in York County, Pennsylvania, just minutes from Baltimore County and Harford County on the Mason-Dixon Line.
Pick your own pumpkins, peaches, apples, blueberries, cherries, and peaches. Food is so fresh you can pick it right off the tree where it was grown!
They produce the tastiest, freshest fruit each season, and invite your family to visit the farm so you can choose the orchard's best fruits before the staff finishes the harvest.
Buy locally and fresh! In the market, you can get wonderful fruit from the orchards along with freshly baked delicacies, hand-dipped ice cream, homemade fudge, and other local products. You can get to know the farmers who grow your food and the farm itself.
The folks down at Maple Lawn Farms work hard to give you and your family a fun place to unwind and relax! Visit and have the opportunity to take in the wide-open Pennsylvanian landscape and the fresh air that the fruit trees produce.
Pick together. Eat in unison. Buy organic. Buy locally. Go local. Visit the Maple Lawn Farms.
Apple Castle
Location: New Wilmington
Website
Come have some fun with friends and family at Apple Castle this fall! You can pick apples straight off the tree and take in the stunning scenery of the farm.
The farm is large enough for families to spread out and enjoy alone time with their loved ones without being surrounded by many other visitors.
On Labor Day Monday, they usually open PYO, and on Saturdays in September, they have PYO apples. On Saturdays in October, they have PYO apples and pumpkins.
Their prices are: $10 package (5-6 lbs, usually 12-14 apples) two people maximum per bag; $16 peck (10-12 lbs, usually 24-28 apples) for five-person maximum per bag $25 for a half-bushel (20-22 lbs, usually around 50 apples).
Pumpkins cost the same as they do under the tent, and customers pay at the PYO shed carving.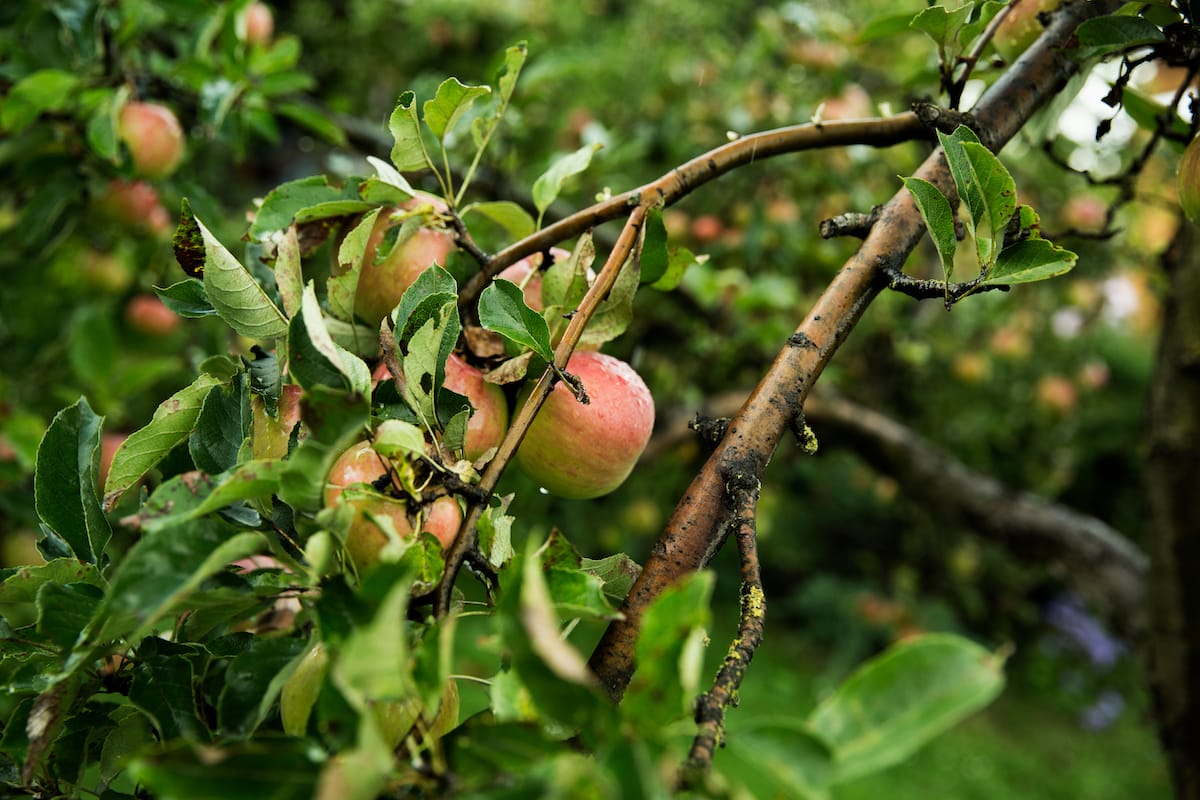 Ridgetop Orchards
Location: Fishertown
Website
In close proximity to the Chestnut Ridge property where he was raised, Dan Boyer founded Ridgetop Orchards.
He eventually acquired the same passion for apple farming as his father, Allan, and created this agriculturally-rich legacy with his family.
On 140 acres of outstanding ridge topsoil, Dan and his wife Lois began the orchards in 1980. This is the origin of the name "Ridgetop."
While raising their three children, Dan and Lois continued the Boyer family's history of cultivating their quality fruits. This is how Dan Boyer and his family, who run Ridgetop Orchards, were when they were young.
The 500+ acres of fruit trees presently known as Ridgetop Orchards are the result of a lifetime of study, love, and labor on the part of the Boyer family and a team of committed workers.
Growing fresh cherries, peaches, and apples is how Dan, Lois, Seth, and Mark maintain the caring legacy of their cultural background. Their hours are Mondays to Saturdays from 9:00am to 5:00pm.
Come enjoy apple-picking with your loved ones this fall season!
Grim's Orchard and Family Farms
Location: Breinigsville
Website
Over 3,000 hens were produced on the original 17 acres of Grim's Orchard & Family Farms, which also had a one-acre garden and was used to produce corn, wheat, barley, and oats.
Grim's now offers u-pick options for thousands of apples, strawberries, cherries, veggies, and pumpkins, as well as activities for the entire family to enjoy in the spring, summer, and fall.
They are open from 9:00am to 4:00pm, starting from mid-August.
The most popular apple would have to be the HoneyCrisp, so make sure to check that out before the others!
Nowadays, it can be challenging to find fruit that is both fresh and delicious, especially when you realize that the majority of food must travel hundreds or even thousands of miles to get to your local shops and markets.
However, you can actually get the freshest, most natural apples available during the Grim's Apple Picking in the Lehigh Valley season, right from the tree. In addition, it is a delightful family activity that is fun and exciting for people of all ages.
Prices vary depending on the type of apple and the amount you choose to buy.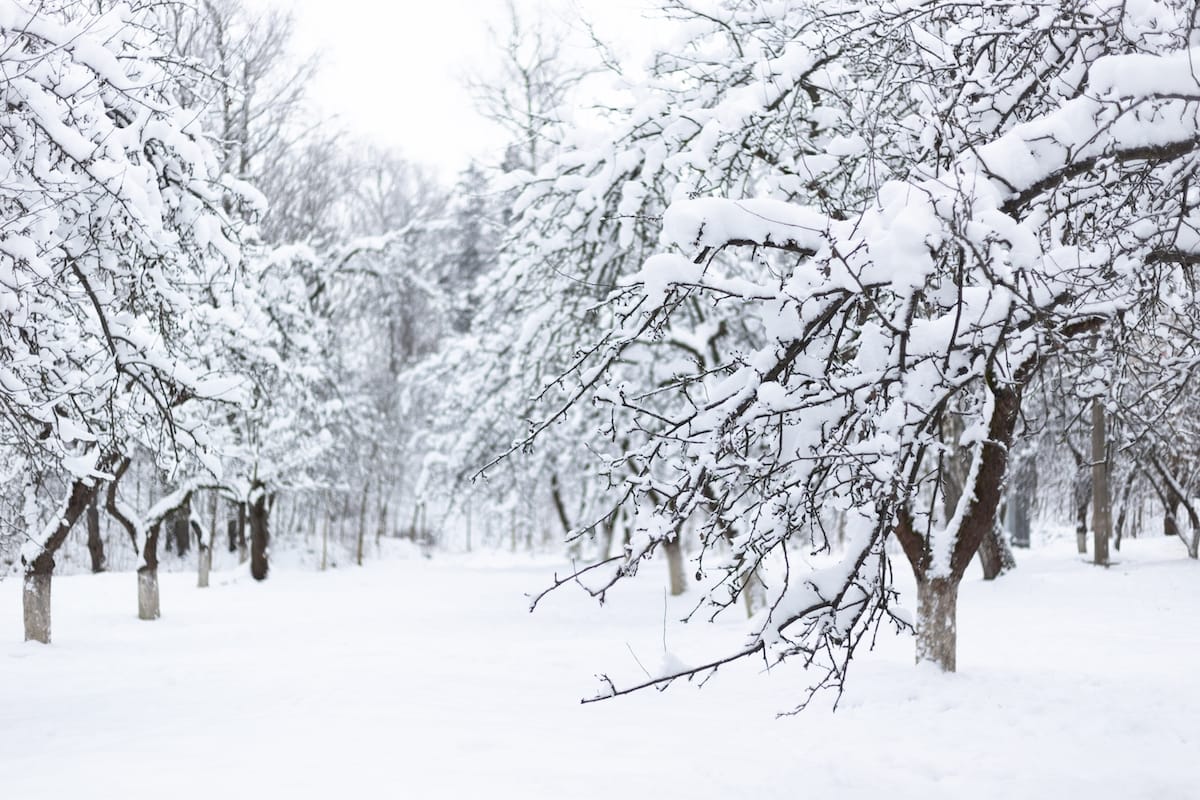 Mt. Airy Orchards
Location: Dillsburg
Website
In Dillsburg, Pennsylvania, there is a family-run farm known as Mt. Airy Orchards (previously Paulus Mt Airy Orchards).
There are over 25 different kinds of apples, 7 different peach varieties, as well as nectarines and plums, on more than 150 acres of fruit trees.
You are welcome to harvest your own strawberries, blueberries, black raspberries, and blackberries at the farm during spring and summer.
Get lost in a cornfield maze in the fall or look through miles of pumpkins to find the perfect one!
Farm Store Hours are: Mondays to Saturdays from 9:00am to 7:00pm and Sundays from 12:00pm to 6:00pm. The u-pick hours are: Tuesdays to Saturdays from 8:30am to 6:00pm and Sundays from 12:00pm to 5:00pm.
Pick-Your-Own will be closing sometime in mid-August.
Gray's Apple Ridge Orchard
Location: Jonestown
Website
As apples ripen, families, friends, and individuals are encouraged to take part in the season of picking! You can pick as many or as little as you would like, and the price is $1.50 per lb (no credit cards).
Make sure to make an appointment to visit; they're open: Fridays and Saturdays from 9am to 5pm and Sundays from 1:00pm to 5:00pm.
Everyone is welcome to visit Gray's Apple Ridge Orchard – it honestly makes for great memories as well! Pick apples, have photoshoots, and enjoy spending time with your loved ones!
Most people like to take regular pictures with their phones and cameras.
However, if you'd like to schedule a professional picture shoot (with your own photographer), please make an appointment via phone call. They do have a session fee of $25.
Did we miss any of the best apple orchards in Pennsylvania? Let us know your favorite places to go apple picking in Pennsylvania in the comments. Thanks!
More Pennsylvania Travel Guides
Pin this Pennsylvania Apple Orchards Guide