Are you looking for a stunning outdoor adventure? It might be time to take a road trip to Ohio and check out some of these gorgeous Ohio waterfalls!
When most people think of gorgeous natural landscapes, Ohio isn't likely to be the first spot on their minds, but it definitely has its fair share of hotspots!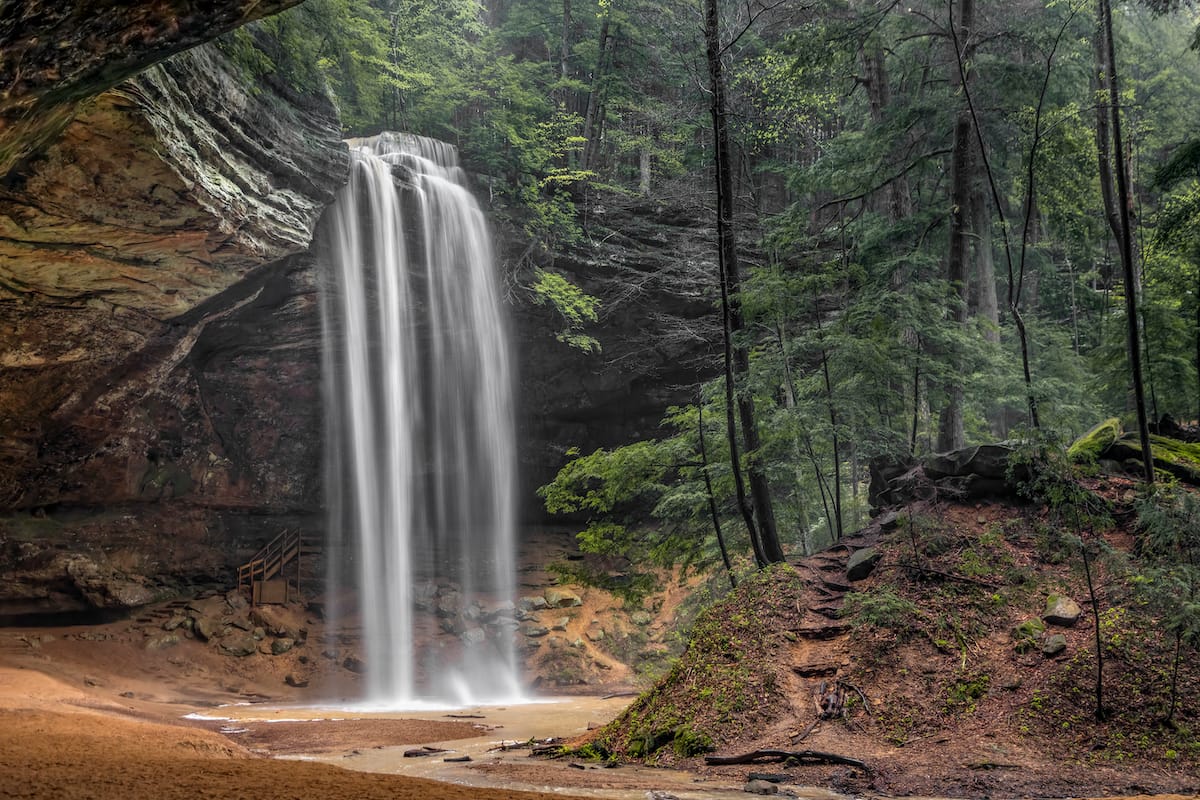 You will find some of the most beautiful waterfall hikes in Ohio and those who enjoy the great outdoors should be sure to add the midwestern state to their bucket list.
If you want to check out the best that nature has to offer, whether you just want to spend more time outdoors, are looking for some new sites to photograph, or want to cool off in a natural spring, here are some of our picks for the best waterfalls in Ohio.
Best Ohio Waterfalls
Old Man's Cave
Old Man's Cave gets its name from Richard Rowe, who dwelt in the gorge's enormous recess cave. It is located in Hocking Hills State Park, which is we can say the highlight of the whole area.
In order to get here, you'll hike through the gorge. The one-way loop trail is approximately 1.5 miles and starts at Upper Falls. ​​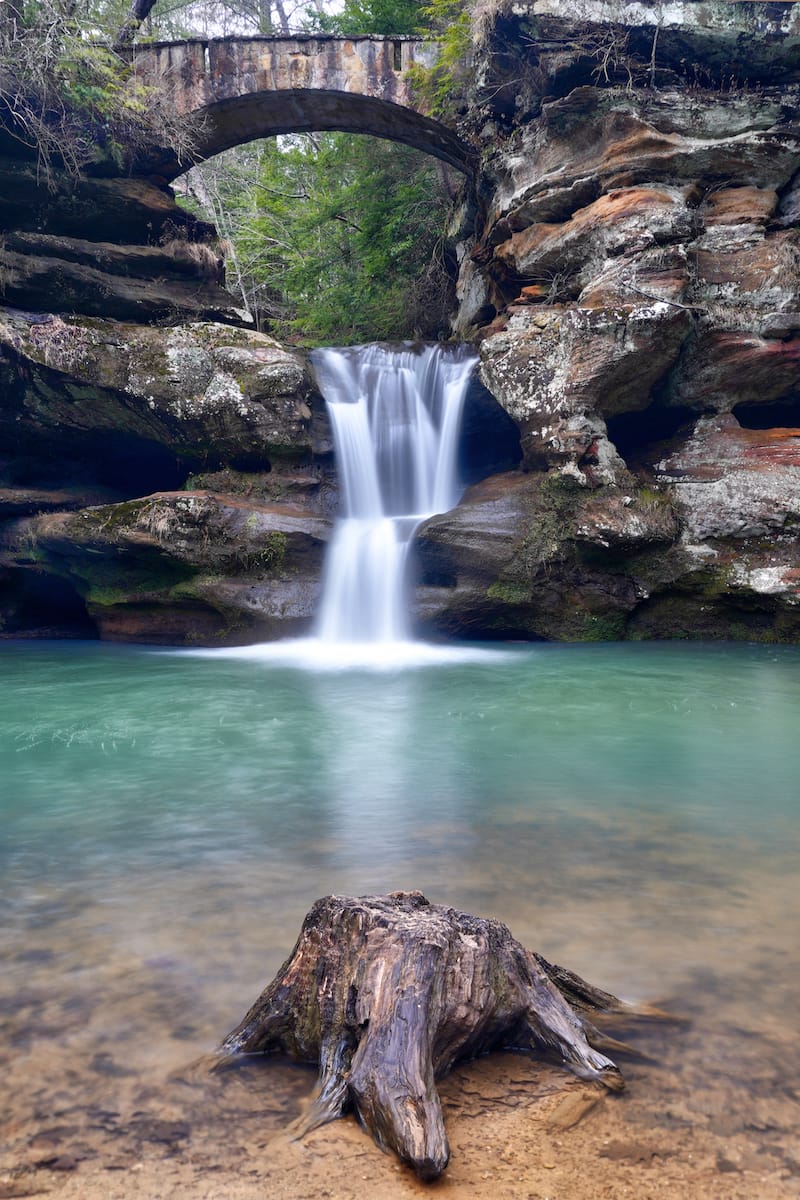 The view of the waterfall and the overall environment are 100% worth the hike. In case you're more into an extended hike, you can hike along Blue Trail to Lower Falls, which is three miles one way.
The path here goes through bridges and the gorge creek. Along the way, you'll encounter sites like the Devil's Bathtub, Sphinx Head, Upper Falls, and Lower Falls.
Buttermilk Falls
Buttermilk Falls belongs to the list of waterfalls that are hidden away in nature.
Getting to this waterfall feels like finding a gem. It's located in Cuyahoga Valley National Park, which is home to a wide variety of beautiful natural sites.
This fall is downstream of Blue Hen Falls, but according to visitors, Buttermilk Falls is more scenic if you were to compare the two.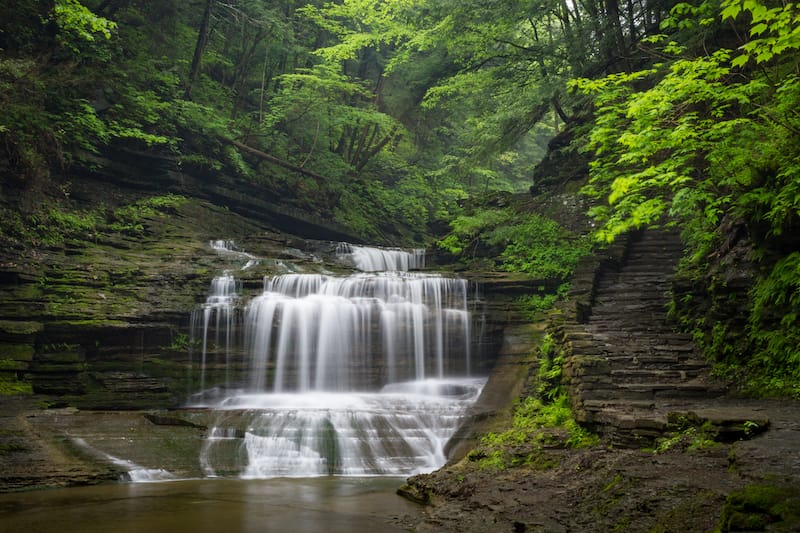 It's only around a 20-minute walk to the falls once you're in the park. Just know that there are no signs indicating this waterfall, so pay attention to avoid missing it.
You can combine visiting this waterfall with others in the same park and check out Blue Hen Falls and Brandywine Falls, which also promise some stunning views.
Charleston Falls
Known as a "Miniature Niagara," Charleston Falls is situated in the preserve with the same name, which is the most-visited Park District property in Miami County. It has more than 216 acres of prairies and forests.
The stream that creates the falls rises 37 feet from small underground springs and goes straight to the Great Miami River. This waterfall is the tallest one in Western Ohio.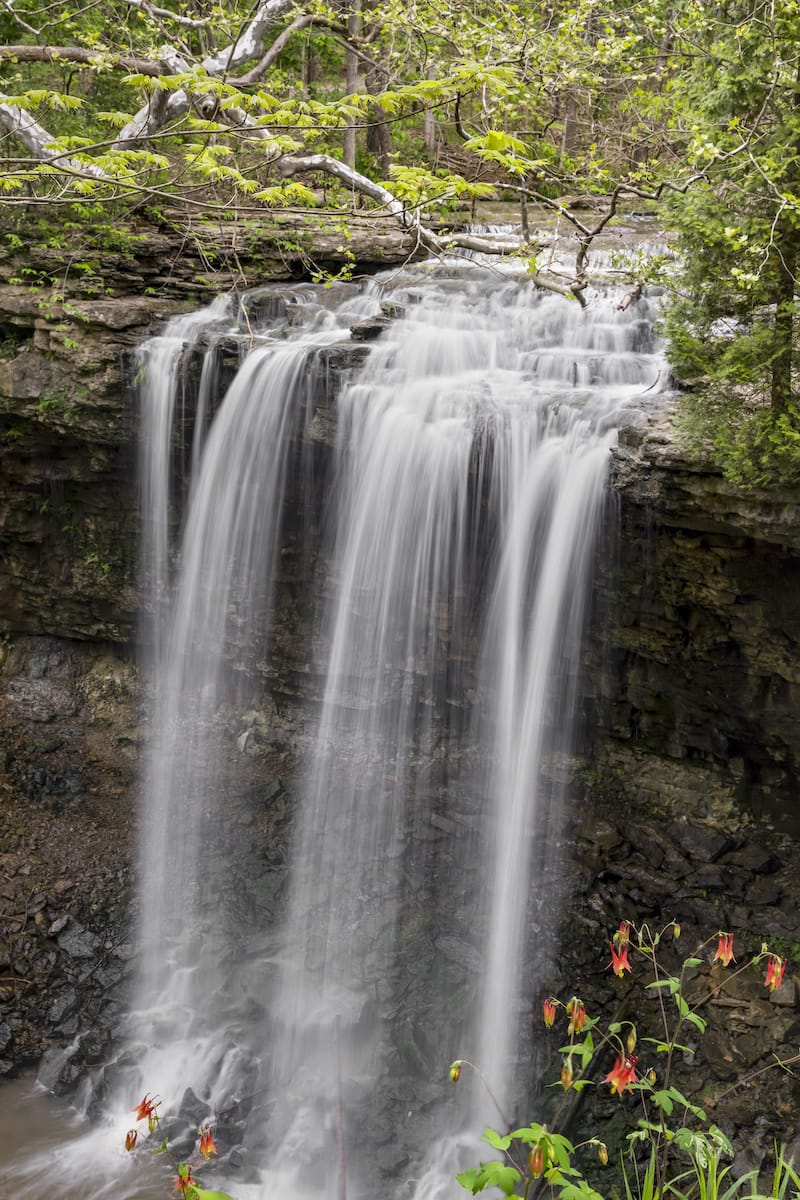 It is usually not that full of water, but the waterfall still flows during all seasons of the year.
Apart from that, the Charleston Falls Preserve area holds a limestone cave, meadows, a pond, and has some established trails like Cedar Pond, Locust Grove Trail, Goldenrod Hexagon Loop, ​​Thorny Badlands, and Red Bud Valley Loop – all easily accessible and convenient for hiking.
Ash Cave Falls
Ash Cave is arguably the most fascinating feature of Hocking Hills. That is because it's not only the largest but also the most impressive recess cave in Ohio.
By the way, the name Ash Cave comes from the vast number of ashes discovered by early settlers.
You can get to Ash Cave through a narrow gorge, which is about a quarter-mile long and abruptly gives way to a massive overhanging ledge and cave shelter.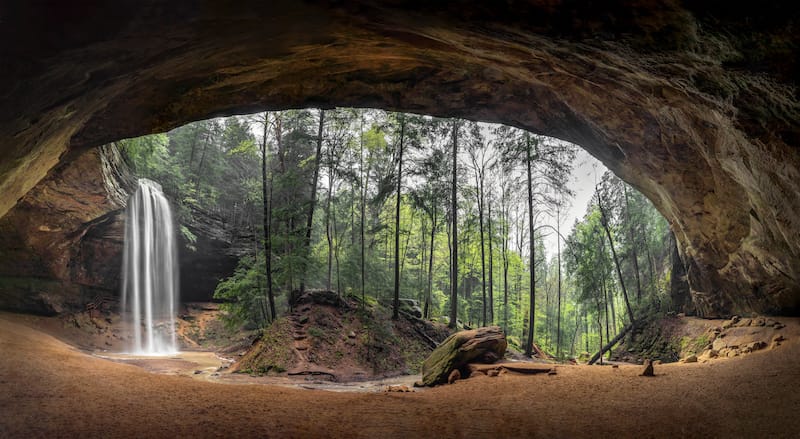 When looking at the fall, it feels like the land was suddenly cut off and water is pumping off from that spot. The cave, with a 90 feet in height, is huge and horseshoe-shaped.
The trail to the cave (waterfall) takes around 40 minutes and is approximately a 1/2 mile long.
Honey Run Falls
Honey Run Falls is a 25-foot-long waterfall located in Knox County. The sights here are beautiful during spring or after rain, and that is the best time to visit this waterfall.
The area of the falls contains distinct plants and stunning Blackhand sandstone formations that are about 350 million years old. There is also way more to this area than the Honey Run Waterfall itself.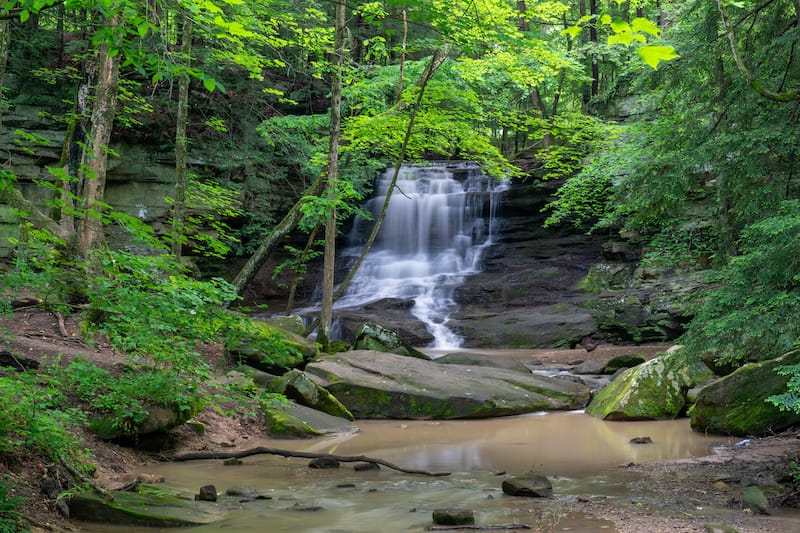 Through a stunning hemlock gorge, you can also check out the trail that leads down to the Kokosing River.
In case you're up to some more waterfall sites, then head over to Mohican State Park and check out the other neighboring falls like Lyons, Little Lyons Falls, and the impressive Hemlock Falls.
West Milton Falls
Located in the village of West Milton, this waterfall is in an easy-accessible location and it's quite close to several other falls. Here we have two big waterfalls followed by a series of smaller cascades.
There is a stairway down to the bottom of the falls and an overlook towards the top.
Springs trickle down to the Stillwater River forming a set of little streams that flow under Miami Street and pour over a series of granite ledges, creating a stunning cascade.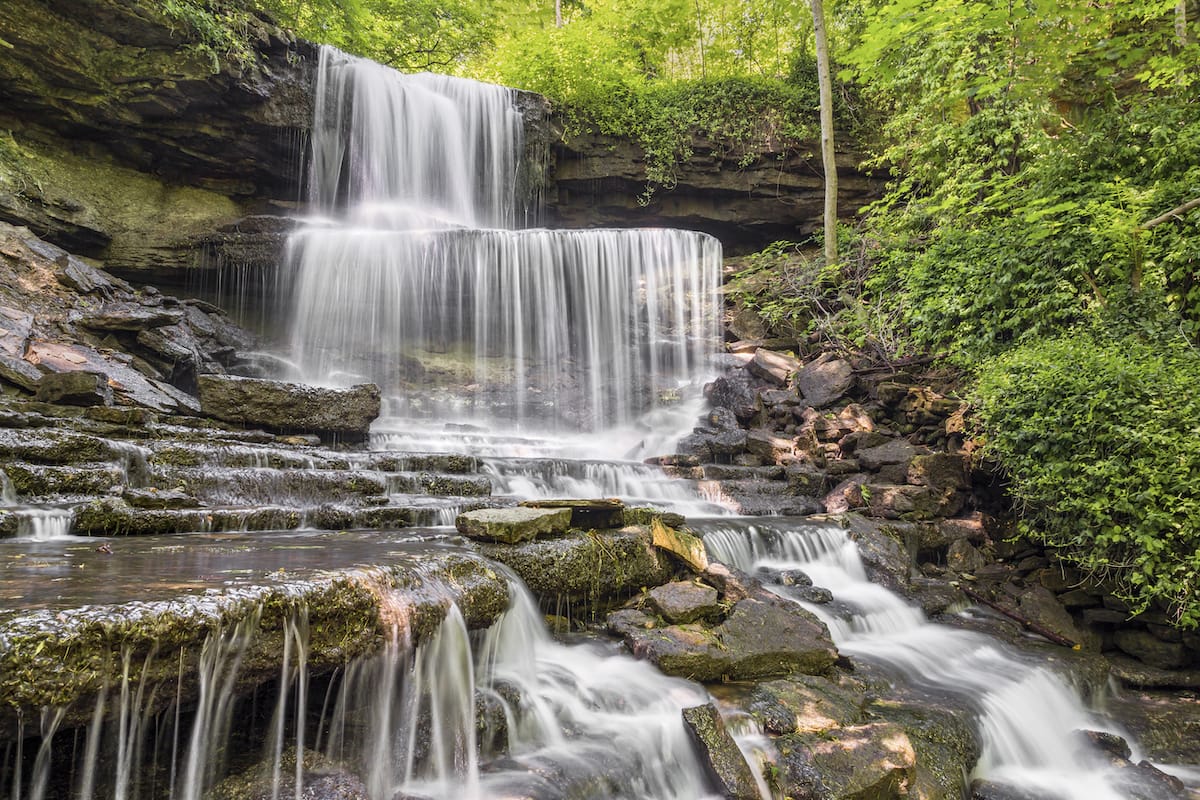 West Milton tourists can also visit Overlook Falls, Ludlow Falls, and Greenville Falls if they continue north on Miami Street for approximately a block.
On the east side at about 30 miles away, you can also check out Charleston Falls.
Brandywine Falls
This 60-foot waterfall offers some pretty amazing views for all seasons. Warm weather comes with its vernal pools, fall with foliage colors, and winter with mesmerizing ice formations.
The waterfall starts near the bed & breakfast, which in fact has a historic attribute to it. Early settlers of the area did not only view the falls like a beautiful sight, but they also thought to use it as a power source.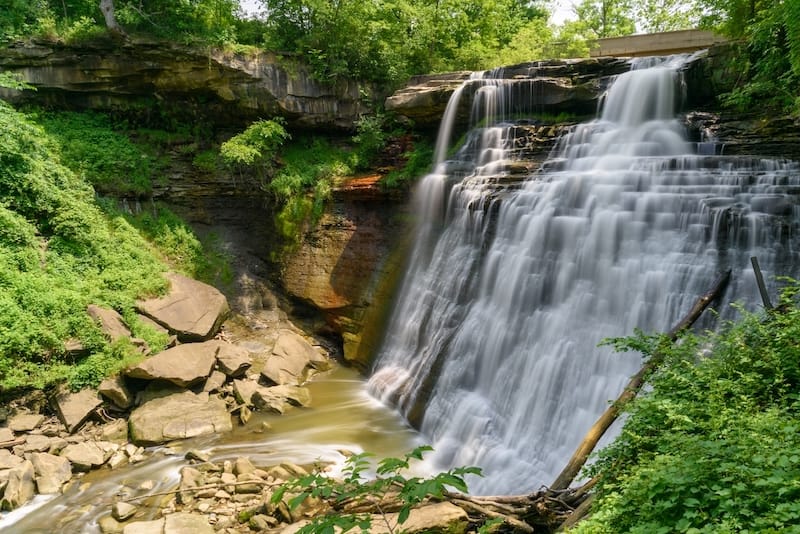 Now, much of the village is gone; only the historical James Wallace house is now a bed and breakfast called the Inn at Brandywine Falls.
To explore the waterfall and the surrounding area, the best option is to hike the 1.5-mile Brandywine Gorge Loop.
Hayden Falls
Hayden Falls is situated within Griggs Nature Preserve along the Scioto River. In addition to this stunning 35-foot waterfall, this ecosystem also is home to some pretty unique and endangered plants.
The viewing point for the waterfall is a boardwalk and an overlook that was built in 2006. It not only protected the natural ecology but also improved community access to the falls.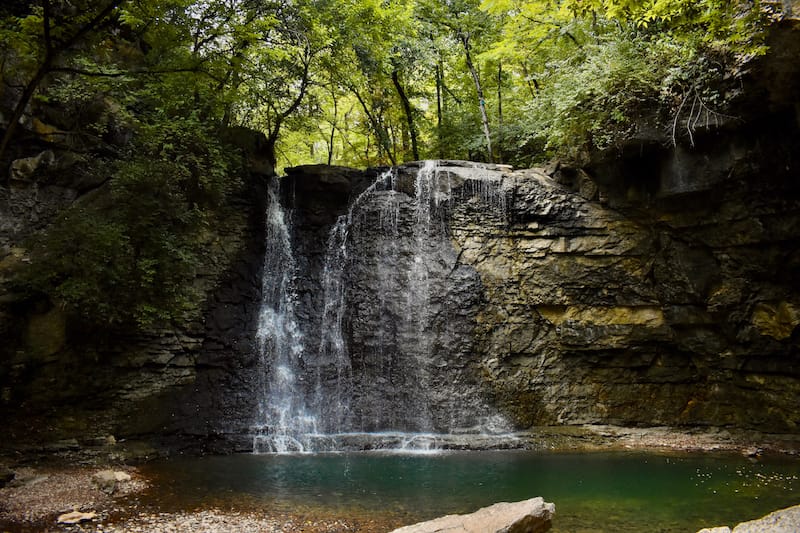 Once here, you can check out the falls and then enjoy your spare time having a nice lunch at the picnic tables available in the area.
The park where the waterfall is located contains a rare gorge ecosystem found solely along the Scioto River's western bank.
Berea Falls
Formed by the roaring waters of the Rocky River, the scenic Berea Falls is not just a regular waterfall. It also presents a piece of glacial history.
It's known that post-glacial river water seeped through cracks in the Berea sandstone and this waterfall was formed as a result of such breaks.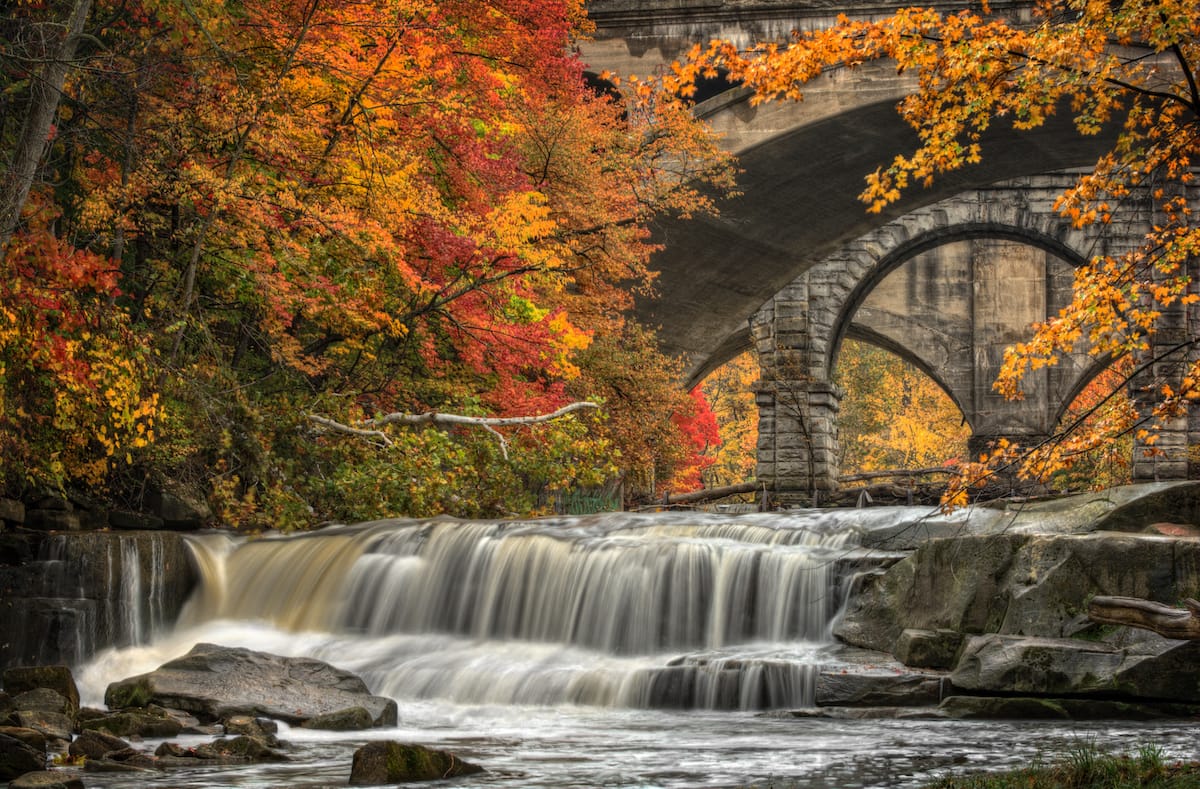 Activities around this area mostly include nature explorations, walking, hiking, and fishing. The trail to the falls is around 0.3 miles and starts on the right side of the observation deck.
The views from the deck are good, but it gets even better when you go down to the falls. When it comes to facilities, note that the parking area is quite huge, but there are no restrooms.
Indian Run Falls
Indian Run Falls is yet another natural wonder located a small distance from downtown Dublin.
You can either check out the main falls or hike to the upper falls to see this waterfall.
One thing to keep in mind when visiting this location is that there have been several reports of people who got injured after jumping into the falls.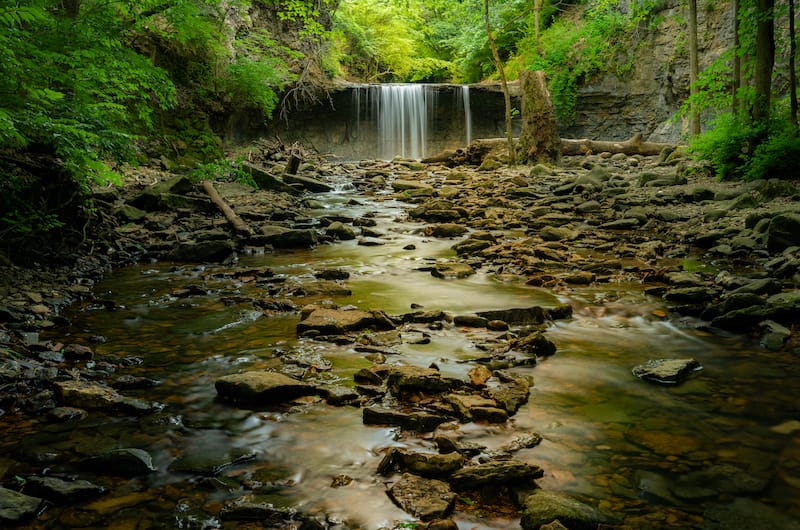 So, it's important to be aware of this danger and don't try to jump into the falls. Also, be sure to follow the marked trails for maximum security.
Along the waterfall, the visitors here have a chance to enjoy viewing decks with stunning nature, picnic spots right in the wildlife, and awesome hiking.
The trail is easy to pass and is a little less than a mile. The best time to visit Indian Run Falls is from April until November.
Ludlow Falls
At 15 feet tall and an easily accessible location, Ludlow Falls belongs to the list of impressive waterfalls in Ohio.
If you're thinking about when to plan your visit, our recommendation would be to visit during the spring as it's considered to be the best season.
The spring is when the falls are full of water, providing some of the best views and photo opportunities.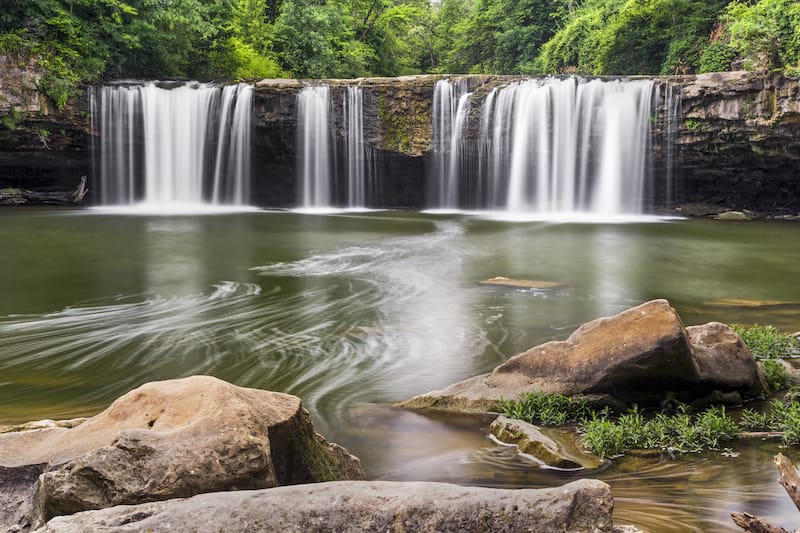 Although the waterfall might be a bit shadowed because of the bridge that was built on it, it's definitely worth a visit.
Once you're in the area and have already seen Ludlow Falls, you can also check out the nearby falls – Greenville Falls and West Milton Cascades.
Rockbridge Falls
Rockbridge Falls has got a pretty unique feature to it- the waterfall flows under a natural bridge. It's located in the Rockbridge State Nature Preserve and welcomes many visitors yearly.
The waterfall does not have a lot of water running through it, but the sight of it is still very eye-catching.
It's known that during April or at the times when the area experiences a lot of rain, the waterfall becomes even more magical.
The bridge that is situated right above the falls is the longest one (90 feet) in Ohio. The trail that reaches the waterfall and the bridge goes through straight farmland and then switches to a forested area.
The Hocking Hills area has a few other remarkable waterfalls, so if you've got time, you should definitely make it a point to explore those too!
Chagrin Falls
Chagrin Falls is a 20-foot-long waterfall with high water flow levels and a very accessible location.
And we mean it- this waterfall is situated right in the center of Chagrin Falls, making it a great site to see for those who may have limited accessibility or who aren't experienced, hikers.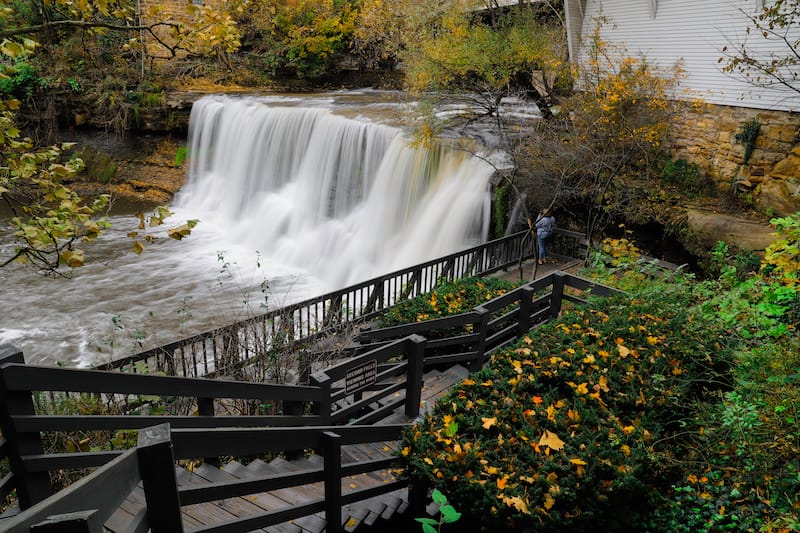 This waterfall also has a historical attribute to it. It was a serious industrial hub in the early 1800s in Northeast Ohio. The falls at the time were strong enough to power 9 different mills.
However, now, it only remained as a beautiful natural landscape, valued by the residents and visitors of the town of Ohio.
Some prominent nearby falls are Willey Creek Falls, Cat's Den Falls, and a few other waterfalls near Sulphur Springs Creek.
Blue Hen Falls
Blue Hen Falls is yet another treasure of Cuyahoga Valley and is much loved by visitors.
The hike to this falls takes around 2 hours and covers a distance of 3 miles. The journey to this 15-foot waterfall is great at any time of year.
Even though you might experience a bit muddy roads and hear the traffic along the way, when you arrive at the waterfall you won't be disappointed by the sight of it for sure.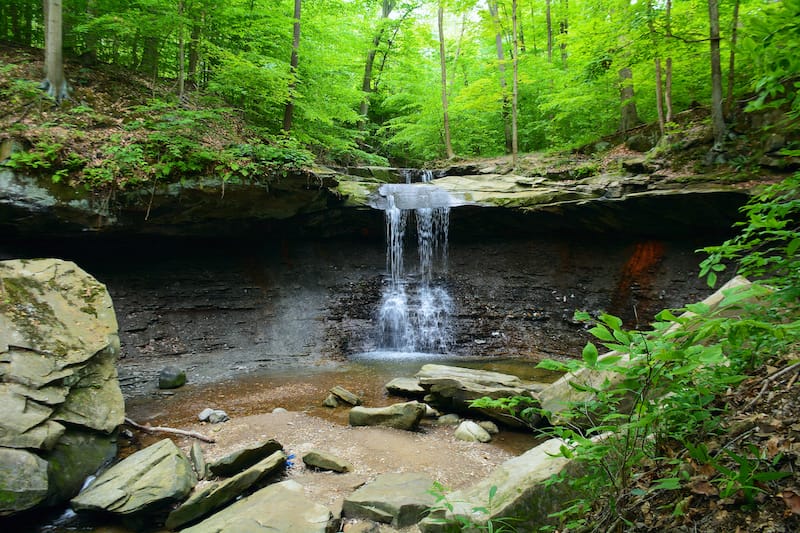 The trail to Blue Hens Falls is accessible throughout all the seasons and you can also bring your fluffy companion with you (but be sure to keep them on a leash).
In case you're visiting during the wintertime, be aware of the fact that you're going to encounter a lot of ice on the road to the falls.
Did we miss any of the best Ohio waterfalls? Let us know your favorite waterfalls in Ohio in the comments. Thanks!
More Ohio Travel Guides
Pin this Waterfalls in Ohio Guide