There are so many great reasons to visit Minnesota and its beautiful cities! These are the best things to do in Rochester MN – from historical landmarks to food (and more)!
Are you planning your trip to Rochester last minute?
If youʻre booking your trip to Rochester last minute, we have you covered. Below are some of the top hotels, and more!
Top Hotels in Rochester MN:
As the state's third-largest city and home of the Mayo Clinic, you can get all the urban fun that you would in Minnesota's Twin Cities while also enjoying a smaller-town vibe in Rochester.
Whether you want to learn more about the city's history, check out some of its natural attractions, admire art in the downtown district, or participate in any of the city's main events, there's a lot to do for everyone in Rochester!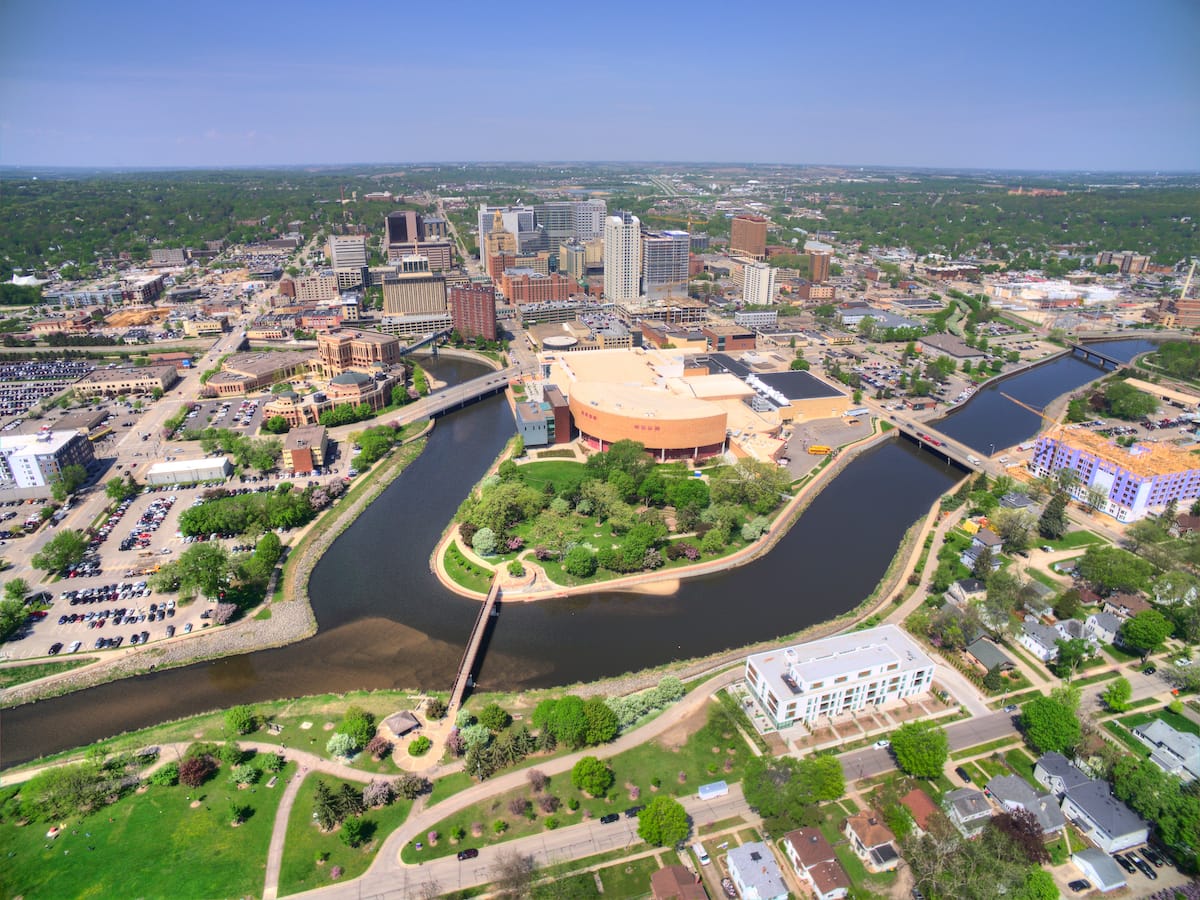 Sparked your interest? Read on to find out more about our top picks for things to do in Rochester, Minnesota. Let us know if we missed your favorite Rochester attraction!
Best Things to Do in Rochester MN
1. Rochesterfest
Every year, there is a festival called Rochesterfest where the locals along with some visitors of Rochester get together and celebrate the city of Rochester along with other places in southeast Minnesota.
Their mission is to give appreciation for the people living there and all that their city provides them by holding multiple community events and programs at the festival.
This is an annual event but the date and time are not fixed, so check out their Facebook page for updates.
If you happen to be in town when this event is held, then make sure to stop by. There are activities for all ages available there as well, so feel free to visit with family too!
2. Rochester Art Center
Art is something that speaks to one's soul. It's important to have an art center to give future artists and creative minds a boost of innovative and interesting thoughts.
One of the goals of the Rochester Art Center is to provide a platform for all its visitors to see and understand art through interactive methods and to introduce them to contemporary art.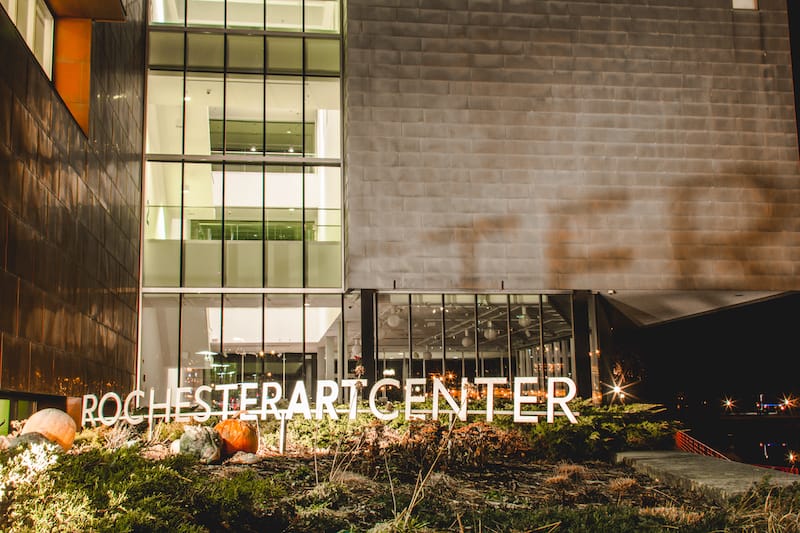 Admission fees for adults (21+) are $5, and for those who are under 21 or for those who are Art Center Members, it's free.
If you're planning on visiting, on Monday and Tuesday, they're closed, but Wednesday to Sunday it's 11:00am-4:00pm.
Address: 30 Civic Center Dr SE STE 120, Rochester, MN 55904
3. Quarry Hill Nature Center
Down at the Quarry Hill Nature Center, there are many attractions such as a pond, hiking trails, and a historical sandstone cave that was carved in 1882.
There are over eight miles of hiking trails so feel free to let loose and immerse yourself in nature while working your body as well.
However, the Quarry Hill Nature Center is not limited to exploring during warm weather.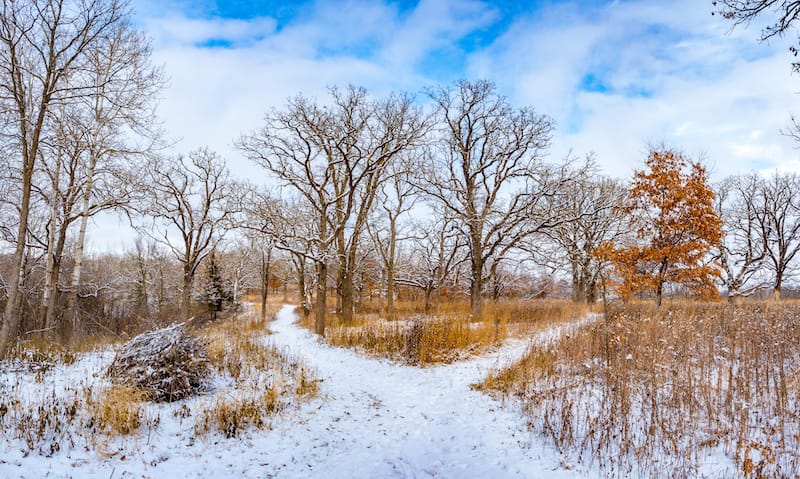 In the winter months, snowshoes and cross-country skis are available to rent to use in the park.
They have year-round classes, day camps, trips, and recreational activities available!
They're open Monday to Saturday from 9:00am-4:00pm and Sunday from 12:00pm-4:00pm.
Address: 701 Silver Creek Rd NE, Rochester, MN 55906
4. The Chateau
Over time, the Chateau has had many purposes. It is one of the most historic buildings in the city and is loved by all!
It opened in 1927 and, at first, it was a Vaudeville House, but over the last 90 years has been constantly changing.
The Chateau has played a vital role in the community as it changed into a movie theatre, then a bookstore, and a coffee shop.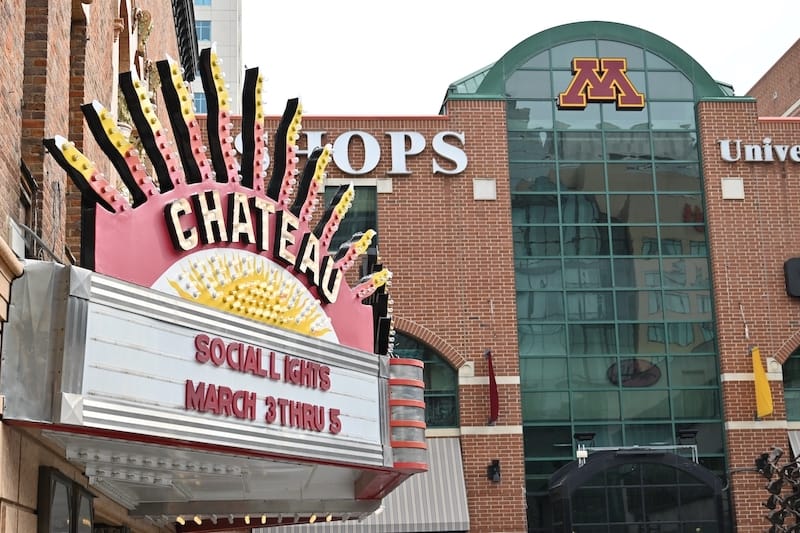 Today, it's the home for the activities of the Rochester Downtown Alliance.
If you're planning on visiting, come on down from Monday to Friday, 8:30am-5:00pm. They are closed on the weekends.
Address: 15 1st St SW, Rochester, MN 55902
5. Four Daughters Vineyard and Winery
Four Daughters Vineyard and Winery is one of the best in the country. They are a fully operational winery, cidery, event center, and restaurant.
With the over 6-acre vineyard on the property, they have become southern Minnesota's one-of-a-kind and absolutely exquisite winery.
View this post on Instagram
They are also home to the Four Daughters wines, Loon Juice hard cider, and Sunflake wines.
Their days and hours are Monday to Thursday from 11am-7pm, Friday to Saturday from 11:00am-9:00pm, and Sunday from 11:00am-5:00pm.
You can also check their page and shop for wines online if you'd like. Also, if you want to make reservations, give them a call or shoot them an email.
Address: 78757 MN-16, Spring Valley, MN 55975
6. Heritage House Victorian Museum
Are you interested in old-fashioned buildings? Perhaps the Victorian era fascinates you or you are looking to learn more about it?
Whatever your reason may be, if you're in Rochester, the Heritage House Victorian Museum is for you!
Stop by and learn about what life was like in the 1800s. This Italianate-style home was built in 1875 for a couple named Eliza and Timothy Whiting.
Over time, the place went through many changes and survived many tragedies such as a tornado.
Today, you can visit the place anytime from 11am-3pm on Wednesdays from June to August.
Visitors are allowed 45-60 minutes for tours. Admissions are $5 for adults and $3 for children.
Address: Central Park, 225 1st Ave NW, Rochester, MN 55901
7. Rochester Symphony Orchestra and Chorale
The Rochester Symphony Orchestra and Chorale is the cornerstone of cultural arts in southeast Minnesota.
The place was founded in 1919 and continues to give people a sense of deep feelings through music.
Music is the language of the soul and is absolutely essential for a healthy connection with your inner creative self.
Their box office hours are Tuesday to Friday from 10:00am-3:00pm. If you want more information, visit their website and email them or give them a call.
Address: 1530 Greenview Dr SW #120, Rochester, MN 55902
8. Rochester Civic Theatre
Founded in 1951, the Rochester Civic Theatre has undergone many changes to become what it is today.
Its mission is to engage the locals in community organizations, help the people progress in education and outreach, and elevate human connection through theatre arts.
To attend their performances, visit their website and check the upcoming events you can buy tickets to or season passes which you can buy online as well.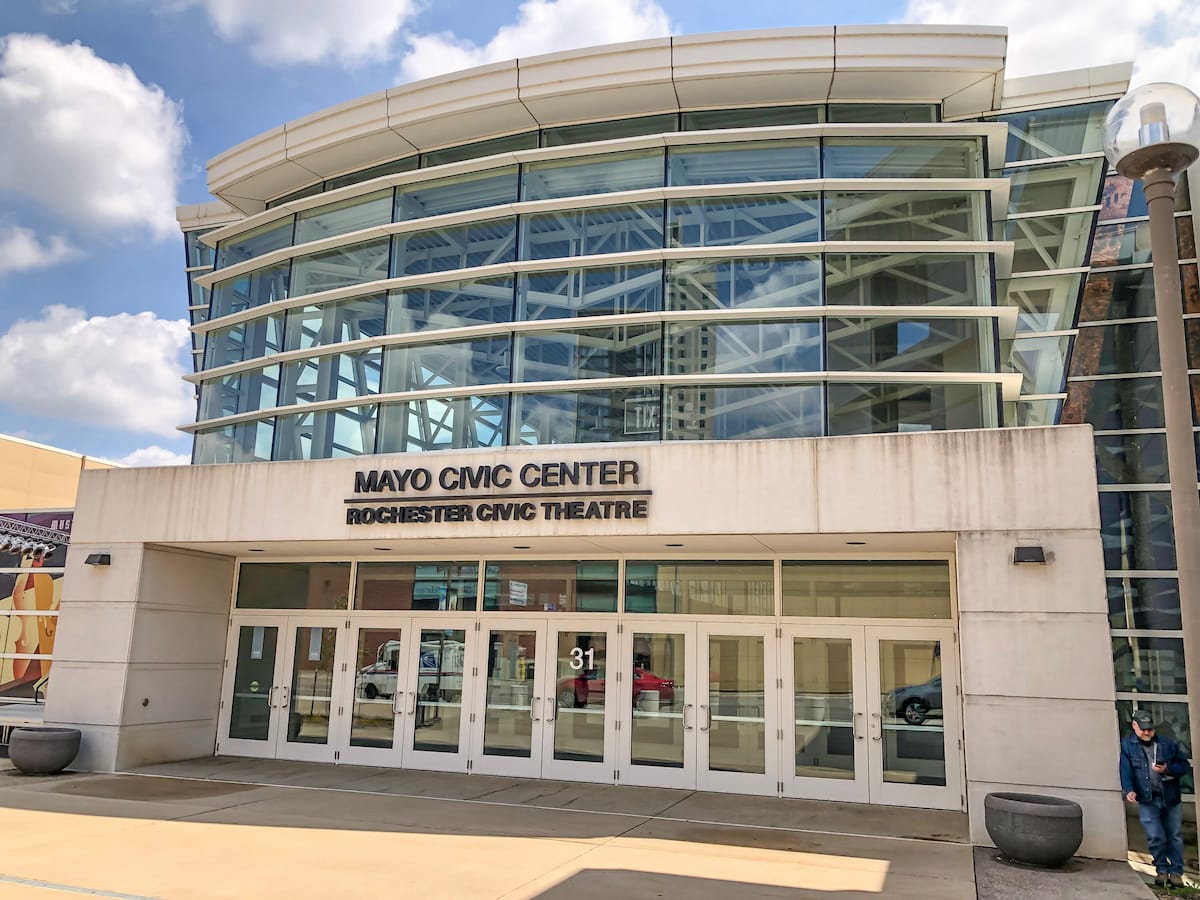 They also have educational events as well so make sure to stay up to date on that. When in Rochester and looking for a taste of culture and art, visit the Rochester Civic Theatre!
Address: 30 Civic Center Dr SE Suite 100, Rochester, MN 55904
9. Eagle Bluff Environmental Learning Center
Do you want your kids to learn about the environment around them and understand ecology?
Well if yes, then the Eagle Bluff Environmental Learning Center is perfect!
They have many programs such as Nature Preschool and Wildlife Care and Public Outreach which instill a sense of responsibility and love towards environmentalism.
The planet is slowly dying and humanity needs to do all it can to educate each other on how to help our planet.
You can also check their website for updates on public events in which you can take part in.
Address: 28097 Goodview Dr, Lanesboro, MN 55949
10. Silver Lake Park
If you are looking for a way to relax or do some mildly active activities, head on down to Silver Lake Park.
There, you can go picnicking with some family or friends, go swimming, play some golf, or just enjoy the scenery and enjoy yourself by the lake.
There are shelter rentals as well, so make sure to give them a call or visit their website to rent a space.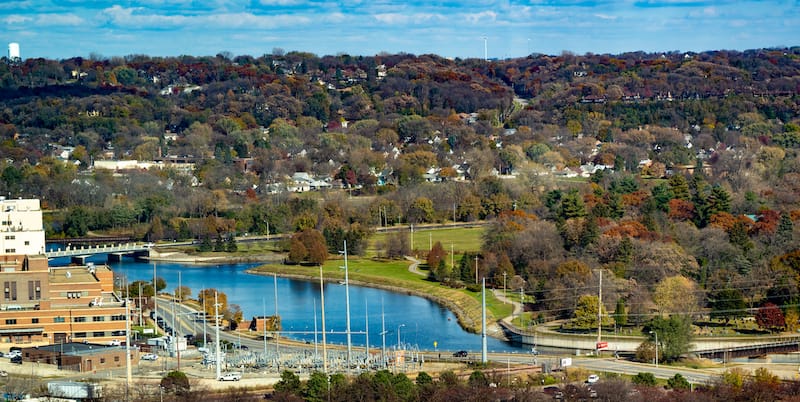 If you are planning on visiting. Their days and hours are Monday to Friday 8:00am to 5:00pm. If you're traveling with kids, you can also take advantage of the playground they offer!
This lake is ideal for those who are in Rochester and don't want to do anything which may be too much and just wants to relax and spend time with loved ones.
Address: 840 7th ST NE, Rochester, MN 55906
11. Amish Tours of Harmony
Now the Amish have been a big part of American history and continue to be a big part of the overall society. Primarily in the state of Utah, their lifestyle differs from that of which people outside of their communities live.
There is also a community of Amish people in Rochester! By taking the Amish Tours of Harmony tour, you get to experience what it is like as an Amish person.
You will have the opportunity to buy some of their baked goods and handcrafted products.
When in Rochester and you want to experience a lifestyle that is different from yours and has its own unique culture and mentality, take the Amish Tours of Harmony tour.
12. History Center of Olmsted County and Mayowood Mansion
To take a tour of the History Center of Olmsted County and Mayowood Mansion is to understand the lives of Dr. Charlie Mayo and his son, Dr. Chuck Mayo.
Dr. Charlie Mayo was the founder of the Mayo Clinic and impacted Rochester greatly.
Today, you can visit although it used to be for VIP guests.
The house was built by Charlie and Edith Mayo. Today, their legacy continues as people are still interested in both their work and the house!
If you would like to visit, check their website for when you can buy tickets and simply book a date!
Address: 1195 W Circle Dr, Rochester, MN 55902
13. Douglas State Trail
If you are looking to spend some time in the great outdoors and also do activities you have fun doing, then visiting the Douglas State Trail is an ideal activity to do if you are in Rochester.
On the trail, you can simply walk or you can also go bike riding, inline skating or even snowmobiling if you're planning on visiting during the winter season!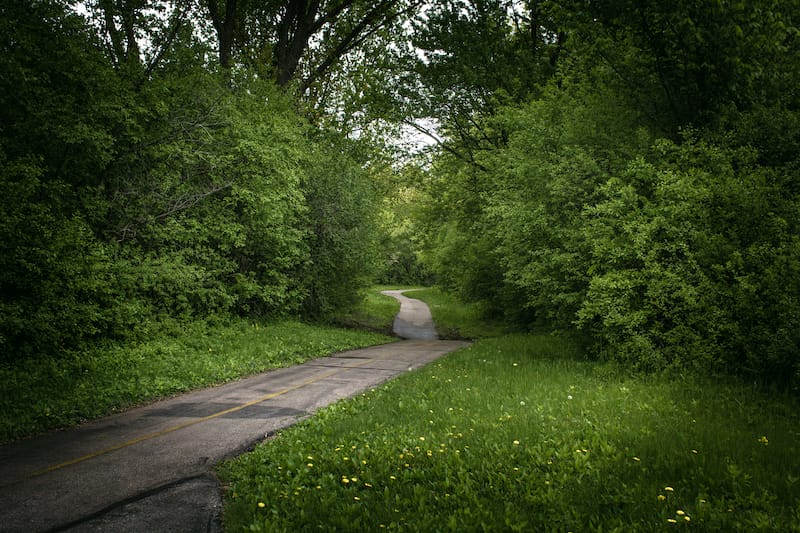 The trail is asphalt and wheelchair accessible so everyone can access the trail and enjoy the beautiful outdoors despite their conditions!
If you are planning on visiting, go to their website where you will find their trail map which will definitely come in handy in the long run!
14. Rochester Trolley & Tour Company
Sightseeing is a must when traveling.
If you are in Rochester and you don't know where to go or what to do exactly, that's okay!
You are definitely in luck because the tour takes you all around the city where you learn about the history of the city, learn about the locals' everyday lives, and see the various different sights that are sometimes overlooked in the city.
The best part is that the tour takes place with red trolleys! The unique and interesting experience is definitely what makes the experience more special!
You can also rent out the trolleys if you're having a party or some other kind of event.
15. Salem Glen Vineyard and Winery
If you're looking to drink some wine and hang out and relax, visit the Salem Glen Vineyard and Winery! There are always events taking place so stay updated by following their website.
Another great thing about the winery is that there's an observatory not too far away from the tasting room!
If you look closely, you'll even see an observatory on their wine bottles! The observatory and astronomy, in general, are a big part of the winery, so prepare to see that once you visit.
The winery was established in 2006 and is family owned and operated.
It was established on an old dairy farm in the Zumbro River Valley and is today a beautiful and relaxing environment created for the satisfaction of all their customers.
If you don't plan on visiting, you can also buy their wine online; check out their selection on their site.
Address: 5211 60th Ave SW, Rochester, MN 55902
16. Chester Woods Park
When in Rochester and looking for somewhere where you can do some outdoor activities and hang out with some loved ones, visit Chester Woods Park!
There, you can engage in various different sports and activities in all kinds of weather conditions!
For example, during the winter you can go snowshoeing and cross-country skiing. In warmer weather, you can go swimming at Chester Woods, go camping, and fishing.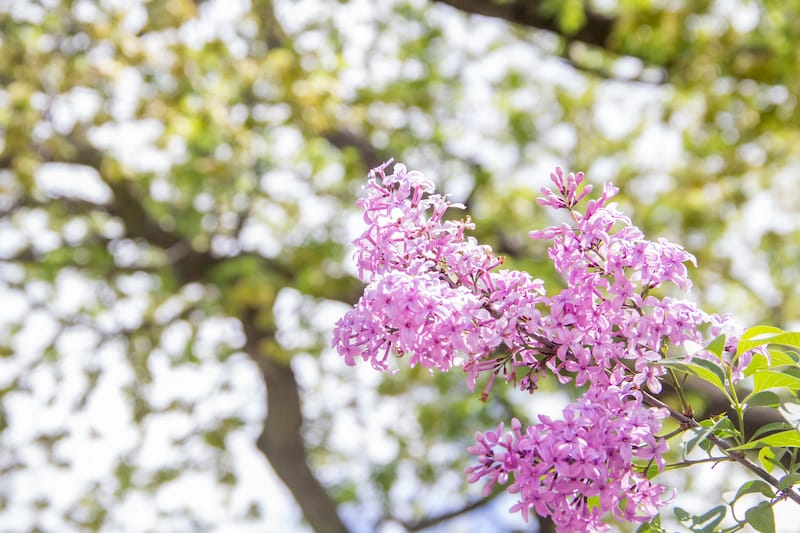 You can also rent different kinds of watercrafts so make sure to check that out as a fun activity you can do with loved ones in the peaceful waters.
Check their website for more information on their rules and guidelines so you can come prepared.
Address: 8378 14 Highway Southeast, Eyota, MN 55934
17. Thursdays on First & 3rd Summer Market and Music Festival
The heart and soul of Rochester's culture, Thursdays on First & 3rd Summer Market and Music Festival is the perfect portrayal of the artistic and culinary side of the city.
From July 7 to August 25, from 11:00am – 8:30pm, every Thursday is the day to let loose!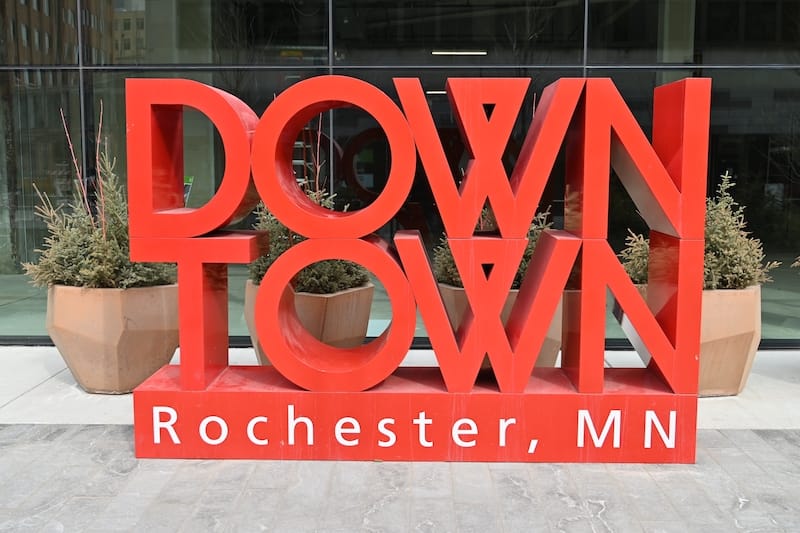 Thursdays Downtown in a combination of showcasing music and art along with the option of buying awesome food and enjoying all the talent!
It's a great way to spend the day if you're planning on visiting Rochester during the summer and don't know what to do.
The place is usually full of all kinds of people and is very interesting as you can interact with the locals as well as visitors from different places.
18. Plummer House
The Plummer House has a very fascinating history.
It seems as though the name "Mayo" is extremely popular in this city of Rochester as the maiden name of the woman of this house, Daisy Plummer, was Mayo! Henry and Daisy Plummer lived here during the time of their marriage with their two children.
Being a very talented couple, Dr. Henry Plummer being a physician, architect, and tool and die maker, and Daisy Plummer being a gifted musician, their family stood out from the rest – and so did their home.
Their English Tudor Mansion gravitates people from all over to go visit.
Of course, the home today is completely open for visitors! You can visit from Monday to Friday, 8:00am-5:00pm. Check out their website or give them a call for more information.
Address: 1091 Plummer Ln SW, Rochester, MN 55902
19. LTS Brewing Company
Customer service being one of their core values, expect to be treated with the best service and by amazing people!
Down at the LTS Brewing Company, they have made it their mission to create a sort of happy place for their customers along with serving amazing local beer.
LTS Brewing Company is not only a place to stop by for some awesome beer, though.
They also have events almost every day and you can check their calendar on their website to see what event is taking place the day you go.
Some of their events include U.S History Trivia, Pictionary Game Night, and Fat Bingo Tuesday. Bring a couple of friends and have a beer and have a game night!
Address: 2001 32nd Ave NW, Rochester, MN 55901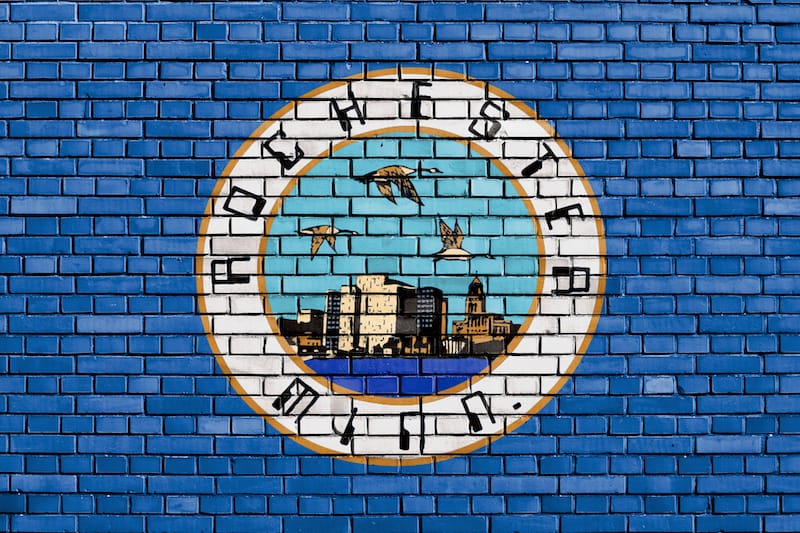 Where to Stay in Rochester
If you're looking for the best places to stay in Rochester MN, we have a few top-rated recommendations below!
Did we miss any amazing Rochester landmarks in this guide? Let us know your favorite things to do in Rochester MN in the comments. Thanks!
More Minnesota Travel Guides
Pin this Rochester MN Things to Do Guide