One of the best things to do in fall in Indiana is going apple picking! These are the best apple orchards in Indiana.
You will find places to go apple picking in Indiana all over the state and we tried to spread them out just a bit in this guide.
Did we miss any amazing Indiana apple orchards? Let us know in the comments. Thanks!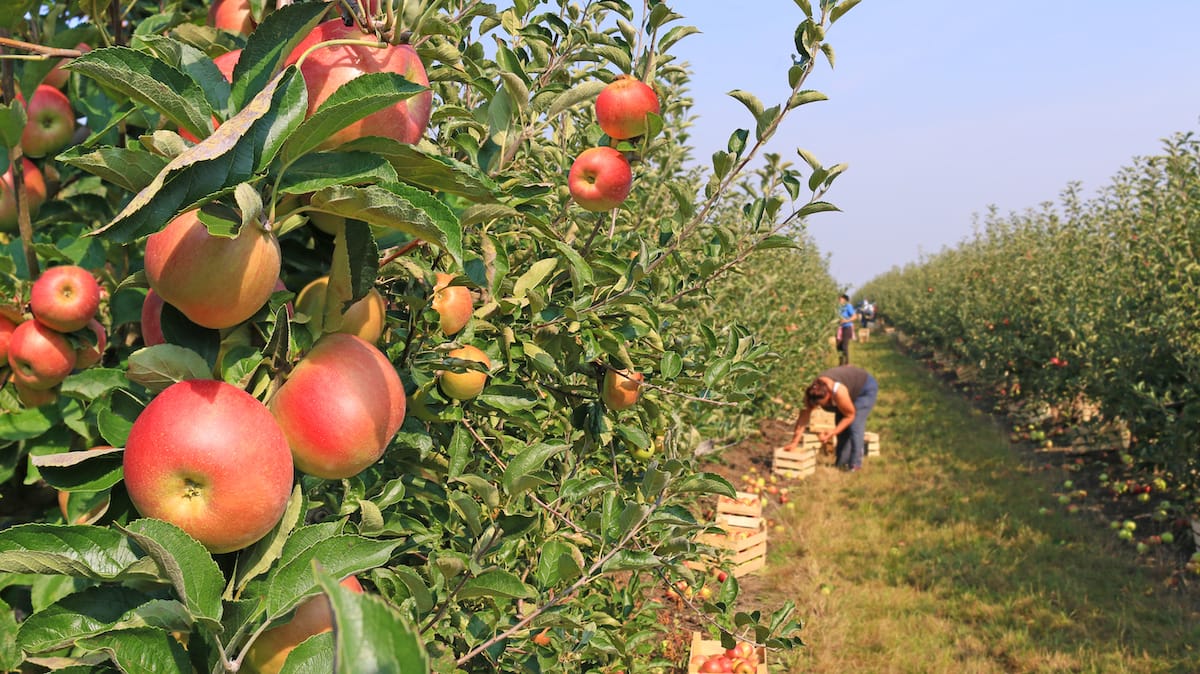 When to Go Apple Picking in Indiana
The best time to go apple picking in Indiana is from August until October.
There are plenty of u-pick orchards in Indiana where you can go with your friends, loved ones, or kids during the beautiful Indiana fall!
Best Apple Orchards in Indiana
Tuttle Orchards
Location: Greenfield
Website
Tuttle Orchards has been welcoming guests to the farm for more than 90 years so they can enjoy their premium food and experience real agricultural fun.
They have been a family-run business for four generations, since 1928, serving the community with organic and delicious fruits.
They are special because of their love for regional food, commitment to agricultural education, and commitment to their family heritage as they look for new ways to give back to the community.
Every day of the year, in their high tunnels, greenhouse, and on approximately 200 acres of land, they raise an abundance of produce. In central Indiana, Tuttle Orchards is renowned for its premium fruit, particularly its acclaimed apples and cider.
Come visit and have some fun during the u-pick season for apples in the fall!
Dougherty Orchards
Location: Cambridge City
Website
The first family-owned apple orchard in Indiana is Dougherty Orchards.
For 139 years, Dougherty Orchards in Cambridge City has been growing apples and being the reason for cherished families getting together and making memories!
Dougherty's also grows sunflowers, pears, pumpkins, and 33 different varieties of apples. At the Petting Farm, you can get up close and personal with a variety of farm animals while strolling around a huge pond filled with Koi fish.
Have a taste of the newest wines and beers by visiting the 1883 Winery. Try their renowned strawberry doughnut sundae, strawberry slush, and other delectable sweets over the summer.
Apple dumplings, fresh cider, and apple cider doughnuts are all seasonal delicacies. During the fall months, picking apples and pumpkins is also an option.
Their hours in August are Fridays and Saturdays from 10:00am to 6:00pm and Sundays from 12:00pm to 6:00pm.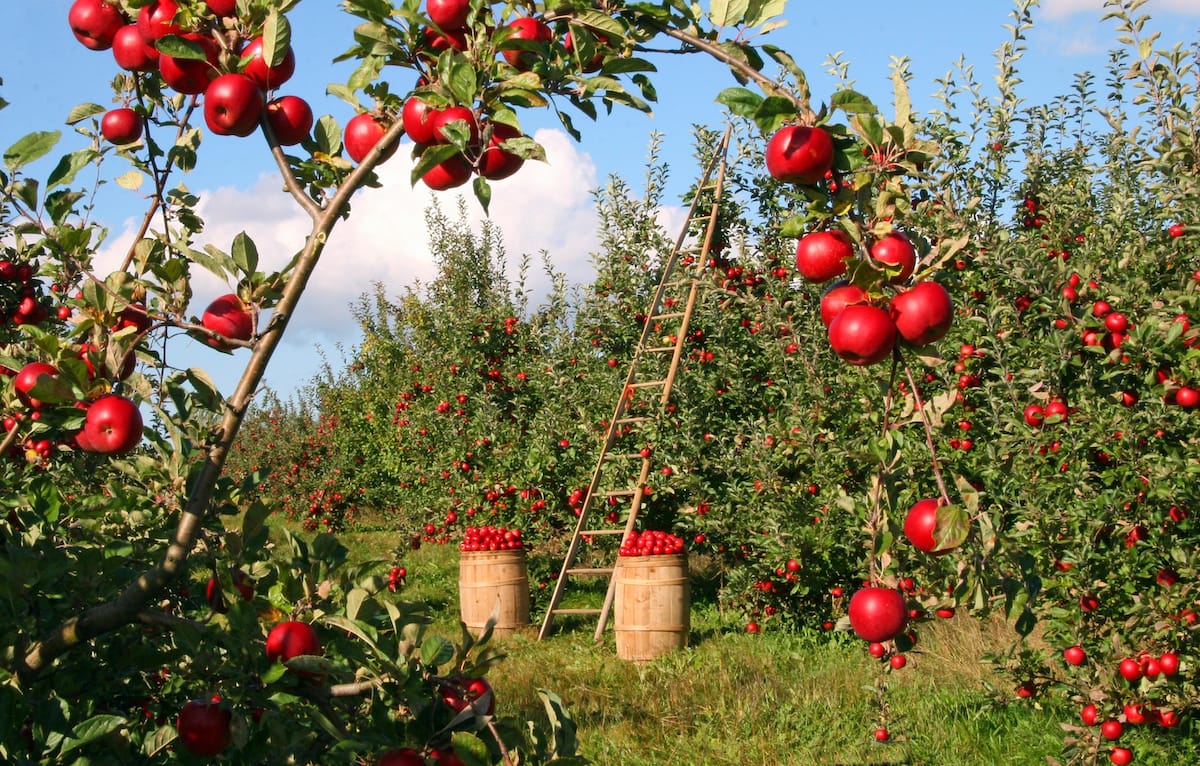 Farlows Orchard
Location: Russiaville
Website
Only 20 years had passed since the end of the Civil War when Lindley and Mary Farlow built a log cottage on a peaceful plot of land in western Howard County and planted their first orchard.
Lindley initially planted those trees in 1885. He had no idea that for the following 132 years, members of the Farlow family he would never meet would continue his tradition of fruit cultivation.
And now, after so many years, what was once simply a pastime for Lindley Farlow has grown into one of Indiana's oldest apple orchards, still owned by the same family, and still upholding the Farlow family's name and legacy.
They usually grow apples and pumpkins at Farlow's, but they also have peaches and nectarines during some years, so check their Facebook or give them a call if you're interested in the peaches and nectarines to see if they have them available that year before making your visit.
Jacobs' Family Orchard
Location: Mt. Summit
Website
Jacobs' Family Orchard's proud owners are William, Samantha, and Wayne Jacobs.
In order to diversify the farm, in 2002, this family bought the orchard. The farming industry has been a part of both Wayne and Samantha's family for four generations.
They also sell grain agricultural products including maize, soybeans, and wheat in addition to the fruits that can be found in the orchard. Additionally, they raise hay and feed cattle, so you'll probably run into some farm animals during your visit.
Jacobs' Family Orchard is a working farm, and they invite you to come to see them and not miss out on the opportunity of buying the fresh foods they raise there. Jacobs' Family Orchard is happy to provide visitors with a variety of entertaining activities and orchard tours as well.
Both kids and parents will enjoy their trip, especially from August to October, when the orchard provides hayrides, a play area with a farm theme, a sunflower trail, and a chance for kids to choose their very own pumpkin from the enormous selection.
Their apple cinnamon doughnuts are also super popular, so make sure to grab a quick bite while there!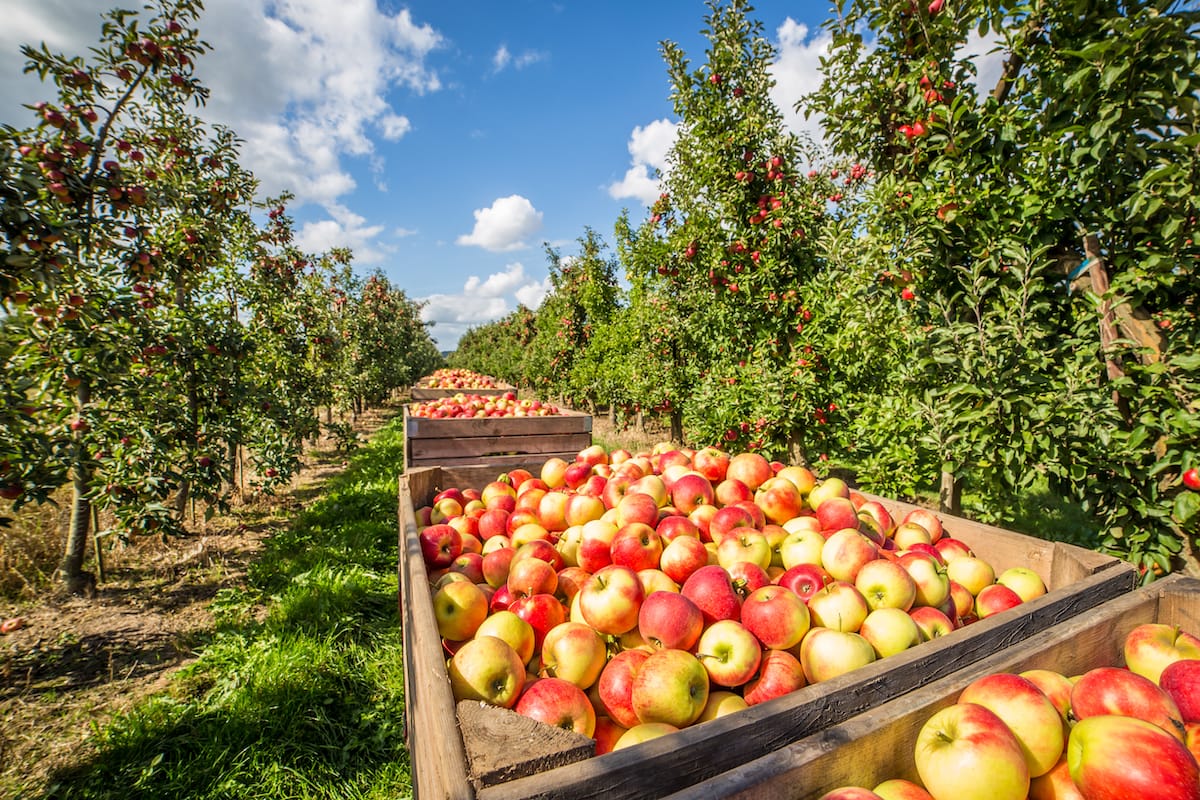 Apple Works Orchard
Location: West Trafalgar
Website
Rick and Sarah Brown started Apple Works in 1989 by starting to plant trees in what is now the Southern quarter of the orchard.
The first crop was produced by the trees in 1991. The first section of the barn was added two years later. Apple Works is committed to producing high-quality apples and other fruit that is superior in taste and texture to that found in supermarkets.
They are able to give you the best-tasting apples by paying attention to the details that some other orchardists tend to ignore and picking at the height of flavor rather than letting apples ripen in storage.
By supplying samples, recipes, and tips in addition to their Pick the Perfect Apple system and the Apple Works Top 21, which you can view on their website, they want to give the customers top-tier quality and service.
Kercher's Sunrise Orchards
Location: Goshen
Website
As William Wheeler Kercher, also known as "Wheeler," planted apple trees at his Goshen, Indiana, house on 7th Street, Kercher's was born.
On 40 acres across the street from its current location, the company's official beginnings date back to 1922.
Together with Tom's sister Janet and her husband Steve Dudley, Tom and Maureen Kercher now own what has grown into a family tradition and company.
Tom is the farm's fourth-generation manager and continues to uphold the family legacy. Bill, Laura, and Mollie Kercher, the children of Maureen and Tom, all work for the company as the fifth generation of Kerchers.
The current location of Kercher's is only a little south of where Wheeler planted those first few apple trees, on the south side of Goshen, west of IN-15, and south of Kercher Road along the Elkhart River.
Kercher's grows a variety of apples as well as sweet corn, pumpkins, squash, cabbage, broccoli, and peaches on its more than 600 acres of cropland. Their fruit and vegetables are marketed wholesale in addition to the Kercher market, where hungry customers can purchase the produce.
However, there is more to it than just the crops, as Kercher's hay rides, educational tours, and U-pick opportunities provide a brand-new, enjoyable experience for the whole family.
Beasley's Orchard
Location: Danville
Website
When Milton and Irene Beasley bought the original 80-acre farm, Beasley's Orchard got its start in 1946.
They raised grain and livestock, including hogs, cattle, and poultry. The family company changed over time from these initial tomato sales to its now abundant amount of numerous fruits and vegetables!
Vegetable production was increased, and large blocks of apple trees were planted as time went on. The Beasley family transformed the old barn into a retail market, an apple packing plant, and a cider mill in the 1970s.
The barn has been utilized for every farming activity, including hay storage, dairying, raising pigs and chickens, raising horses, and now serving as a grocery store, an apple packing plant, and a cider mill.
Beasley's Orchard is currently a 165-acre farm growing a diverse range of crops and serving as a well-liked agritourism destination for locals and tourists from across the Midwest.
U-pick strawberries, U-pick raspberries, the Sunflower Festival, and the Fall Festivals are examples of their agritourism activities.
Currently, crops like apples, tomatoes, sweet corn, green beans, cucumbers, peppers, squash, cantaloupe, watermelon, and pumpkins are sold annually for both wholesale and retail sales.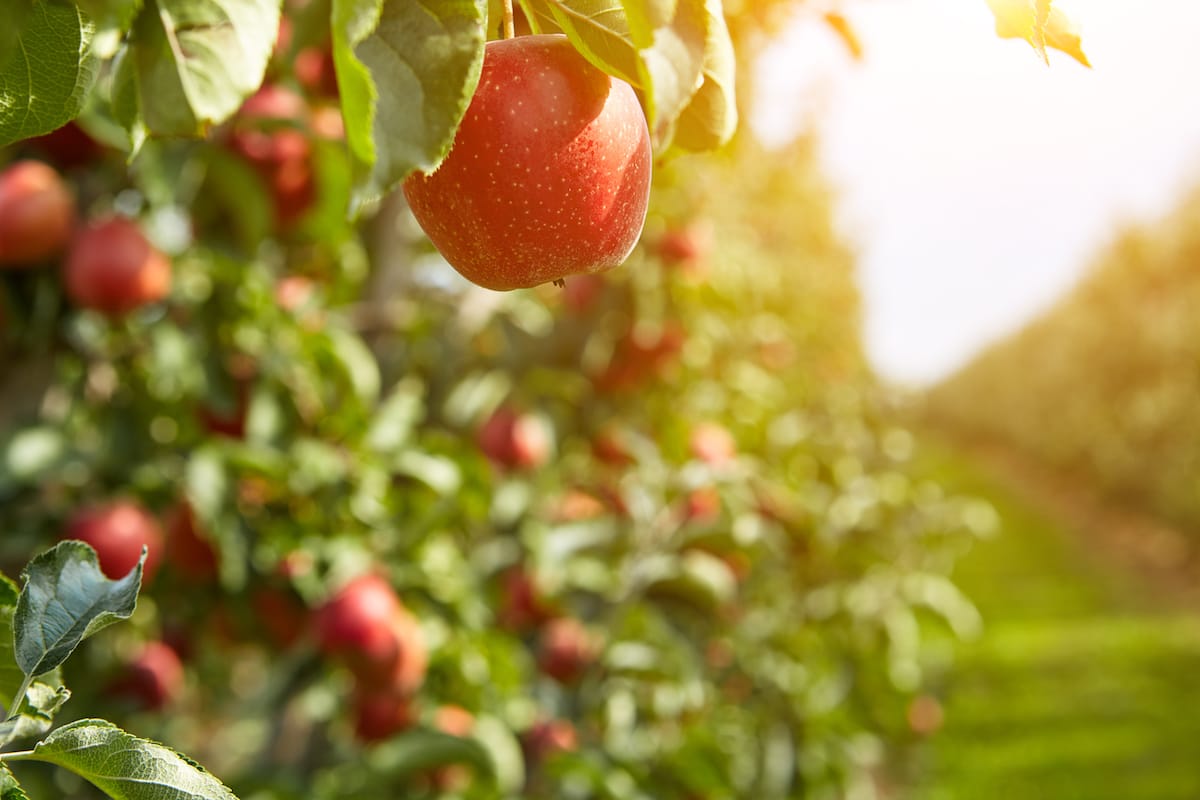 Phil's U-Pick Apple Orchard
Location: Huntington
Website
As we all know, getting your vegetables straight from the farm is the best option as the taste is simply superior!
Phil's U Pick Orchard in Huntington County, which is situated at 760 N 500 W, Huntington, and is stocked with luscious apples, vegetables, pumpkins, and mums.
You may check-in at the tent once you've parked and they'll lead you in the appropriate direction so you can start choosing after you've checked in. Phil's offers a ton of options when it comes to apples. All your favorites are visible if you go between the rows: Gala, Golden Delicious, Jonathan, Jonalicous, etc.
There are more than 30 different varieties of apples, so it's fun to experiment with some new ones in your cooking.
Filling your basket with your harvest in the orchard is a very rewarding experience because of how lovely the location is, with its picturesque views and family-friendly vibe! Don't forget to stock up on vegetables while you're there either.
You can select fresh vegetables from the vines, such as squash, eggplant, and zucchini, or you can buy ones that are already pre-packaged.
McClure's Orchard and Winery
Location: Peru
Website
Visit McClure's Orchard and Winery to enjoy a fun day of apple picking and wine tasting whilst enjoying the impeccable scenery down in Peru, Indiana.
Currently, they have about 7,000 trees and 150 different kinds of apples. As they plant new kinds of trees every spring, these numbers keep rising.
McClure's visitors typically start collecting apples in mid-July and end in late October. Their apples are sorted after being harvested and kept in a sizable cooler until they are sold in the shops, made into sweet cider, or brought to the kitchen for baking.
The apple-picking season runs from mid-July until early November. Not every variety is offered for "U-Pick," but every variety is sold in their locations.
Apples can be purchased in increments of 1/4 peck, 1/2 peck, 1 peck, 1/2 bushel, or 1 bushel. In order to ensure that they have them available for you, they strongly advise guests to call ahead for large amounts.
Cook's Orchard
Location: Fort Wayne
Website
The Cook family has owned and operated Cook's Orchard since 1977 when 75 apple trees were planted just for fun.
Each year, new trees were planted, including peach and pear trees, and by 1985, the orchard was home to several hundred apple trees of various varieties.
Since the opening of their shop in 1987, guests have been able to pick their own apples and Asian pears (while supplies last) or select from a wide selection of already-picked apples and peaches to buy and enjoy.
At Cook's, they use both conventional and cutting-edge agricultural techniques in the orchard, and they sell a wide range of both traditional and cutting-edge apple types, including the famous HoneyCrisp Apple.
Their orchard offers a plethora of sweet, juicy apples for picking in the Fall that can also be bought in the Cook's shop. Cider, jams, jellies, and local honey are also offered. When in season, gourds, pumpkins, Indian corn, and miniature pumpkins are available for purchase.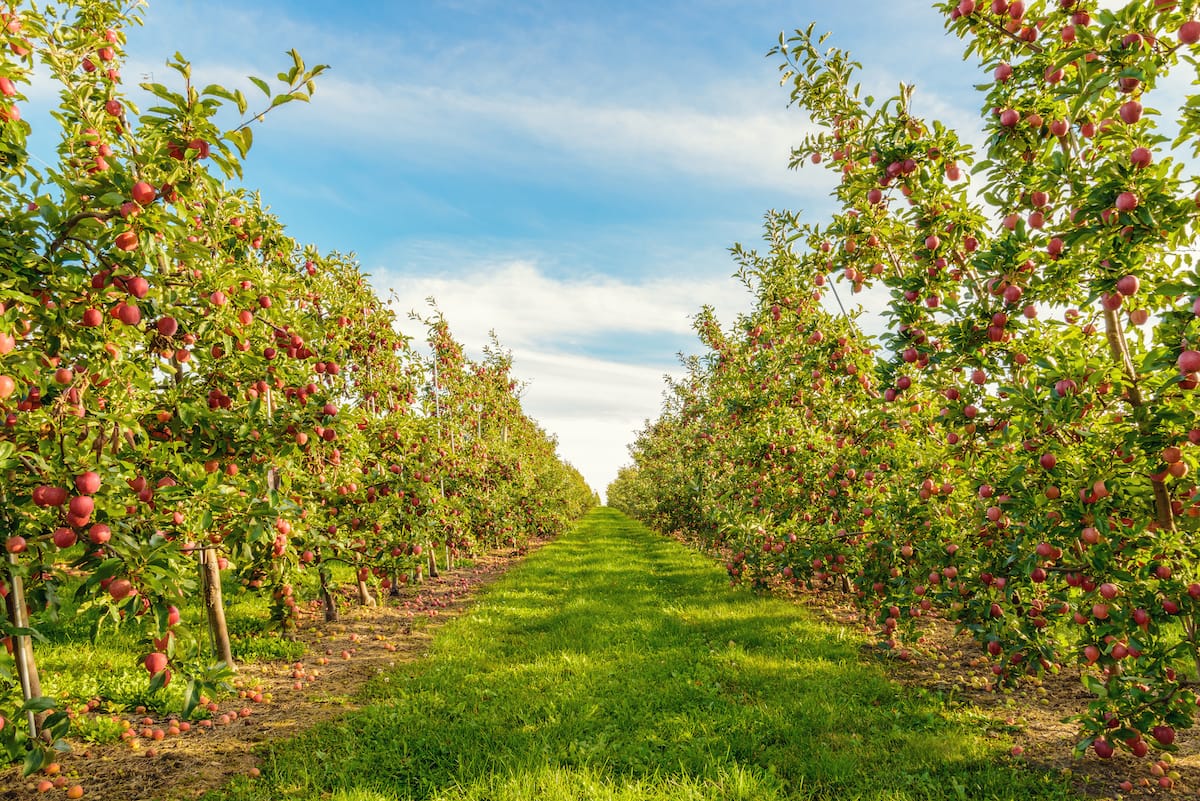 Pleasant View Orchard
Location: Fairland
Website
The Pleasant View Orchard is a family-run business. The Kemper family currently owns the 40-acre apple orchard, which was first established in the 1930s.
The orchard contains more than 20 different types of apples. Customers can choose their own apples in their retail store or buy apples that have already been picked.
Assorted preserves, apple butter, fresh produce, apple cider, apple cider slush, and caramel apples are among the products they sell.
They're open on the weekends in the months of July, August, and November as well as every day in the months of September and October.
Pleasant View Orchard has a pick-your-own pumpkin patch that opens around the last weekend in September and on the weekends, they provide tractor-pulled wagon excursions to the pumpkin patch as well!
Each year, Pleasant View Orchard looks forward to providing the neighborhood with excellent fresh vegetables in a welcoming atmosphere for families. Additionally, they welcome pets from the family, although they do ask that they stay on a leash.
Beiersdorfer Orchard
Location: Guilford
Website
In southeast Indiana, lies the family-run company called Beiersdorfer Orchard. While specializing in apples and apple cider, Beiersdorfer Orchard also provides a huge variety of mouthwatering fruits to suit your needs, including peaches, pears, plums, and more.
From casual, individual buyers to business clients, they are happy to serve everyone. Peaches are available during the months of July and August. From October to December, they have pears.
Their apple cider is the freshly squeezed juice of two or more well-chosen apple types that have either not been strained at all or only lightly.
The cider's hazy, amber color and peculiar flavor are a result of unfiltered suspended apple solids and natural oxidation.
The end result is a pure, undiluted apple cider, so make sure to check out this organic, tasty cider when at Beiersdorfer Orchard. The cider can also be frozen and kept for about a year. Shake vigorously and fully thaw before using. If refrigerated, it lasts for around 5 weeks.
Did we miss any amazing places to go apple picking in Indiana? Let us know your favorite apple orchards in Indiana in the comments. Thanks!
Pin this Indiana Apple Orchards Guide